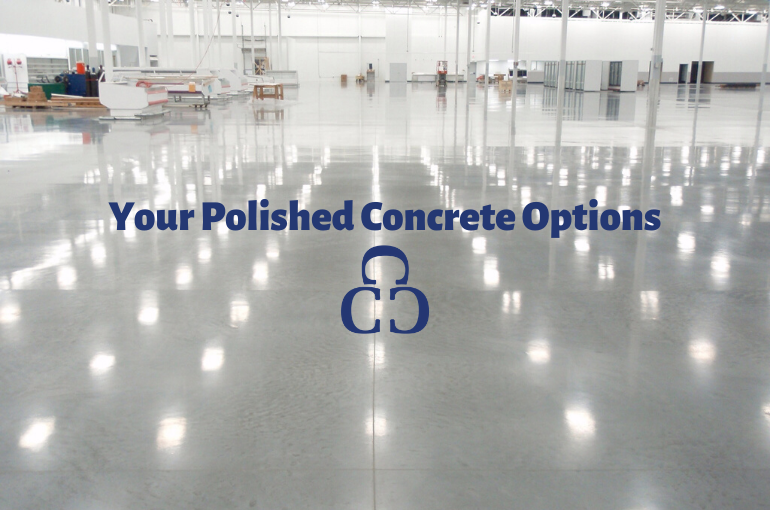 Polished concrete floors are becoming increasingly popular in all areas of interior design. They are chic, stylish and offer some serious style points. They fit well with already established design, making it easy to incorporate into your business and organization without completely starting over with your interior design. They also come in many different finishes and options so you can use them as a piece to base your entire interior design off of. You can make them subtle and understated for a chic and professional look, or you can utilize some of the more fun and unique finishes for a bright, cheery effect on your space. Whatever you are looking for in your flooring, our concrete creations can fit the bill.
So, you've decided you want concrete. Now comes the bigger question: Where do you start? Determining the kind of look you are going for is a good way to narrow down the options. Here is what we can do for your space!
Our C3 Diamond Floor is one of our favorites. It is innovative, leading the industry and looks fantastic in any space. So, what is so special about this polished concrete? First, the entire process of installation has been reinvented to create harder, denser surfaces that are aimed to extend life expectancy and reduce maintenance costs. This floor comes in three different finishing options and four different gloss levels to get you exactly what you're looking for. What other benefits does the C3 Diamond Floor have?
Increased life expectancy

Better resistance to abrasions

High level of protection from absorption of water, salts and oils

Dust proof

Highly reflective

Cost-effective

Minimal down time during project

Better for the environment
Acrylicon (Resin)
We have paired with AcryliCon as our industrial resin provider to give our clients the best resin floor on the market. Resin is known as an acrylic glass and gives a beautiful, long lasting flooring options. Resin also has some awesome benefits!
Fully cured in two hours

Can last over 30 years

It is solvent free and low VOC

Provides strong, durable flooring

It helps save you money due to how low maintenance it is
Overlays and Underlayments
If you love the look of polished concrete flooring, but aren't quite a candidate for concrete, over at Custom Concrete Creations we can install a polished overlay or underlayment to give you a similar look. These can be used both indoors and outdoors and provide a quick, durable and economic solution for new flooring. These are quick settings, which means you can cover your old flooring in as little as four hours and is a great option for a less invasive renovation.
Stained Concrete
An option that may give you a bit more versatility when it comes to design and color would be stained concrete. It gives you a unique design and effect that will give any room a distinct look. We can install many preferences including antique, variegated, mottlesor monochromatic concrete. Staining is a great option because it adds style to your already existing concrete without changing the durability!
Woodcrete
If you want the look of a hardwood floor, but want the durability of concrete, woodcrete could be perfect for you. It gives the design you want, while maintaining its durability and low maintenance qualities. This also gives you the ability to customize your space by providing many different design flexibilities.
Whatever type of look your business or organization is looking for when assessing new flooring, Custom Concrete Creations can make it happen. Whether it is shiny polished concrete, brightly colored stained concrete or chic woodcrete, we can transform your space today!