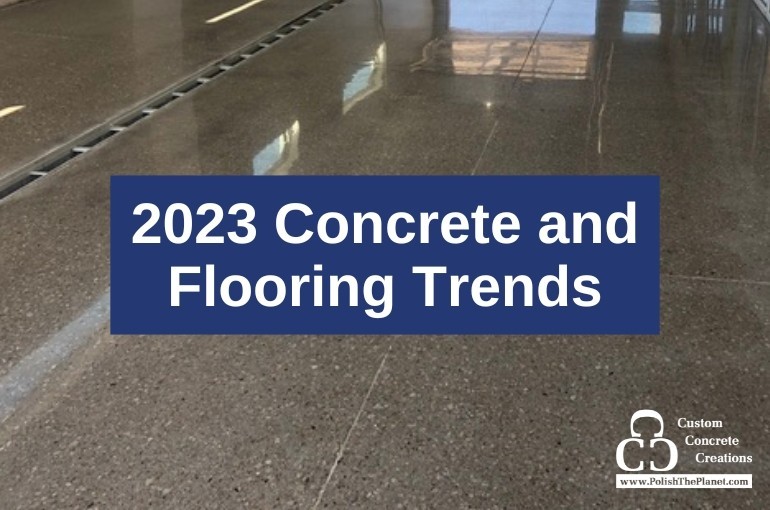 We just cannot get enough concrete flooring! It's affordable, airy, versatile and easy-to-clean. It can be installed anywhere and in any particular style. We've taken a look at the most prominent flooring trends for 2023, and know that concrete is still a good choice. Your concrete floor can be made to fit 2023's flooring trends. Here's how!
Sustainability
Sustainable living is becoming more and more important, and more people want to incorporate sustainability into their flooring. Concrete floors are sustainable. You can recycle concrete and use recycled materials as aggregates. Concrete floors also last a long time, so less carbon is used in creating materials for repairs. Concrete has heating and cooling properties, making them power efficient and saving you money on energy bills.
Warmer tones
We've been warming up to the idea of warmer tones in our flooring. Concrete can be stained in different shades of beige, rust and terracotta, creating a cozy and welcoming atmosphere. Concrete floors are aesthetically pleasing, especially in warmer tones that can make you feel comfortable throughout each changing season.
Texture
Textures on flooring add character to the spaces they're incorporated into. They also add depth and create a wholesome feel. Polished concrete floors can be made with unique, textured surfaces. Wood flooring is another popular option, but it's expensive and requires constant upkeep. Woodcrete, on the other hand, is hard to damage and easy to maintain, and it looks just like wood but is made of concrete.
Antique shades
Dark-colored flooring was in, but now we're looking at earthy, brown-toned and natural stone colors for flooring. Concrete is naturally a stone color and can make any space look high-class. Concrete can also be colored to be more earthy and brown, so you can achieve any finish you're going for. These shades can create a more inviting and relaxed space.
Old-fashioned black and white
Checkerboard patterns are making a comeback from the Victorian era. Polished concrete can be made into a checkered pattern, creating a look that adds both color and pattern, but that isn't too complicated or outgoing. You can choose traditional black and white, or opt for different shades. Consider this for bathrooms and smaller spaces.
Trust us with your new

concrete floor

No matter what look you're trying to achieve for your concrete floor, Custom Concrete Creations can help! Concrete is a great element to add to any space. Whether you're looking to improve your office or retail space, we have an abundance of experience and professionalism. Contact us today to get started on your 2023 project!