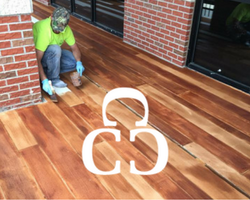 While often times we address the more technical aspects associated with concrete, it's also important to note the many different concrete floor designs available to suit your specific taste. There are many design options out there including polished, rustic concrete wood, metallics, and staining. All of these options are available services of Custom Concrete Creations for your residential or commercial/industrial needs. Below you'll find a further explanation of what each different design entails. This will allow you to gain a better idea of each option as you begin your research into decorative concrete floors.
Polished concrete
One of the more traditional and very popular options for concrete floor designs is polished concrete floors. There are different levels of polished concrete flooring including flat, satin, semi-polished, and highly polished ranging from least to most shiny to fit whatever your preference may be. Not only are polished concrete floors aesthetically pleasing, they are also environmentally friendly and yield low maintenance costs much like the other options below!
Rustic concrete wood
Less traditional yet equally as aesthetically pleasing are rustic concrete wood floors. Rustic concrete wood floors are a great way to add a design element to your residential, commercial, or industrial location. Much like polished concrete, rustic concrete wood is also a cost effective alternative to other building materials.
Metallic
Of the available services offered by Custom Concrete Creations, metallic concrete floors are one of the newer options. By choosing metallic concrete floors over other traditional building materials, you are opening yourself up to a range of options not common in most residential/industrial locations.
Staining
Concrete is naturally porous and grey, so it is the prime surface for staining. Available in a wide array of vibrant and earth-colored tones, it's also an easy, cost-effective way to add a decorative element to your home or business.
Before beginning any project though, it is always important to do your research on the many options in the marketplace to gain a clearer understanding of what it is you want.
There are so many creative and custom options for finishing concrete, but first and foremost important is the concrete itself. At Custom Concrete Creations we have state of the art equipment and a properly trained team with years of experience. Custom Concrete Creations is a premier contractor serving the Omaha area as well at the Midwest. Give us a call or send us an email for your custom concrete finishing needs today!