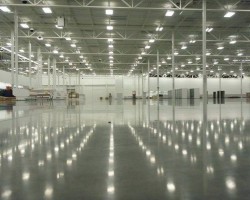 Long known for its durability and cost saving features, polished concrete flooring is a popular alternative to other flooring materials due to a few main benefits: lower maintenance, lower total cost, aesthetics, and environmental friendliness. Polished concrete's superior durability and performance along with these benefits have made it a top finish for retail stores, warehouses, office facilities, municipalities, and homes alike.
Low Maintenance Yields Lower Total Costs
Polished concrete floors are very economical. Unlike many other floor surface materials, a polished concrete floor can last up to five to ten years or longer before it needs to be refinished. Maintenance on a polished concrete floor is also minimal. Not only are polished concrete floors easy to clean, requiring only occasional damp mopping, they also have the ability to resists scuff and tire marks. Polishing also eliminates the need for messy waxes or coatings all the while inhibiting stains from oils or liquids due to the density of its surface. All of these associated benefits yield lower total costs when compared to alternative flooring options.
Aesthetics
Not only is polished concrete easy to maintain and long lasting yielding lower maintenance costs, it's aesthetically appealing as well. The exposure of the aggregate in the concrete unveils a natural stone look. There are also various levels of sheen depending on the degree of reflectivity and shine that is desired. It is important to understand the different levels of polished concrete with regard to exposed aggregate and sheen before you begin. Being knowledgeable of this information from the beginning of the process will make everything run that much more smoothly.
Environmentally Friendly
In addition to being easier to maintain, costing less, and yielding aesthetically pleasing (and superior) results, polished concrete floors are also more environmentally friendly compared to other flooring options. Polished concrete contains no Volatile Organic Compounds (VOCs) and there are no coatings applied, such as epoxies, urethanes, or waxes; slurry or hazardous waste is no longer an issue. These characteristics make polished concrete an environmentally friendly surface!
Now that you understand a little more about the benefits of polished concrete, find out more about how it's done, design options, and associated trends.
There are so many creative and custom options for finishing concrete, but first and foremost important is the concrete itself. At Custom Concrete Creations we have state of the art equipment and a properly trained team with years of experience. Custom Concrete Creations is a premier contractor serving the Omaha area as well at the Midwest. Give us a call or send us an email for your custom concrete finishing needs today!