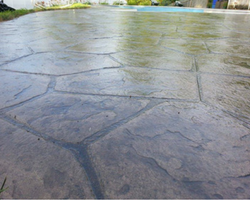 Wanting to entertain guests outside as the weather begins to warm? Looking to spruce up your home patio to make all your neighbors jealous? Or just seeking the perfect decorative element to add to your outdoor space for your family to relax in? Then you should seriously consider stamped concrete. Stamped concrete is the perfect decorative addition to add to your home patio, and lucky for you, this option is available to you as Custom Concrete Creations is serving residential clients in the Omaha area! Read below to find out some of the benefits associated with stamped concrete.
1. Make all your neighbors jealous
As mentioned above, stamped concrete is a great way to improve the look of your home patio. You'll be sure to make the whole neighborhood jealous when they see the new decorative addition to your home. They'll be even more jealous when they find out how little it cost you
2. Cost
Stamped concrete is not only a great way to upgrade your outdoor space, it's also one of the most cost-efficient ways to do so. Averaging around, $15 per sq. ft., stamped concrete is a sure way to add a decorative element to your outdoor living space without breaking the bank.
3. Plethora of available options
With stamped concrete, comes a wide array of design options to you not available with other outdoor patio materials. You have the option of choosing from a range of brick, natural stone, and even sometimes wood-patterned stamped concrete options.
4. Low-maintenance & Durability
As one of the most durable building materials, concrete is extremely low-maintenance by nature. It won't require constant upkeep like many of the other options available to you, so if you're looking for an option that doesn't require constant maintenance, there's a good chance stamped concrete could be for you.
5. Longevity
With low-maintenance and durability comes inevitable longevity. Because it is concrete, stamped concrete lasts longer than most other building materials, so you won't have to worry about replacing it nearly as often as other options. So you're telling me not only is stamped concrete cheaper upfront but in the long run as well? Yes, yes we are.
Still have questions? Here are some FAQs associated with stamped concrete and some ways to ensure longevity with stamped concrete sealers.
There are so many creative and custom options for finishing concrete, but first and foremost important is the concrete itself. At Custom Concrete Creations we have state of the art equipment and a properly trained team with years of experience. Custom Concrete Creations is a premier contractor serving the Omaha area as well at the Midwest. Give us a call or send us an email for your custom concrete finishing needs today!