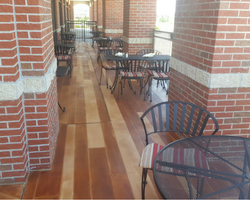 Before wood decks became the trend about a decade ago, patios were typically made of stone, brick, or concrete. Ironically, today a lot of those same homeowners are having to replace their patios due to warped or rotted wood. If they are not replacing them due to the wood becoming warped or rotted, then many of them are replacing them due to the high maintenance of having to re-stain and re-seal them every couple of years. Concrete or concrete pavers are becoming the popular choice in patios again due to the many benefits of concrete that wood or wood composite decking lack. Below we will discuss some of those many benefits of using concrete for your patio.
Concrete has vast design versatility, and because of this your concrete patio will be truly unique. Concrete patios are more versatile now than ever also thanks recent advances in stamping tools and coloring techniques. Concrete allows you to incorporate aesthetically pleasing curves and lets you accommodate for any space restrictions in your backyard because it is able to be formed into any shape with ease. Coloring methods such as staining or dying the concrete allows you to achieve almost any look you can desire. You can match the stone to colors in the stone on your home or even blend the patio in with the natural landscape, whatever you like, your options are endless with concrete.
When it comes to patterns there are also a lot of options. You can stamp, engrave, stencil, expose aggregate and so much more. A newer trend in concrete patios is to design a patio that complements the indoor living space so that it has a sort of seamless transition to the interior of the home, as opposed to complementing the natural landscape. Again, the options are limitless.
Not only is concrete versatile, it is also very durable. Concrete can withstand the elements in all kinds of environments. In colder weather environments contractors even take extra measures to make sure that concrete patios are durable enough to stand up to extreme conditions.
Concrete patios are extremely easy to maintain, even more so than natural stone or individual masonry pavers due to it being a solid surface. Grass and weeds can grow in the sand in the joints between the pavers, you don't have to worry about this with a solid concrete patio. Also, with individual pavers you have greater tripping hazards as opposed to a solid concrete patio. Comparing concrete to wood, you won't have the hassle of re-staining and re-sealing or have to deal with splinters, wood rot, or infestations with concrete like you do with wood patios.
Concrete patios are also much more environmentally friendly than using wood for patios. The solvent-based wood stains and sealers can also be avoided by using concrete.
You can also get more for your money with concrete. Concrete can be made to look like brick or stone pavers by stamping, stenciling, or engraving it for a lot less money, particularly when you consider the savings of labor. Installing a decorative concrete patio is not only attractive to the eye, it also will raise your home's resale value.
There are so many creative and custom options for finishing concrete, but first and foremost important is the concrete itself. At Custom Concrete Creations we have state of the art equipment and a properly trained team with years of experience. Custom Concrete Creations is a premier contractor serving the Omaha area as well at the Midwest. Give us a call or send us an email for your custom concrete finishing needs today!