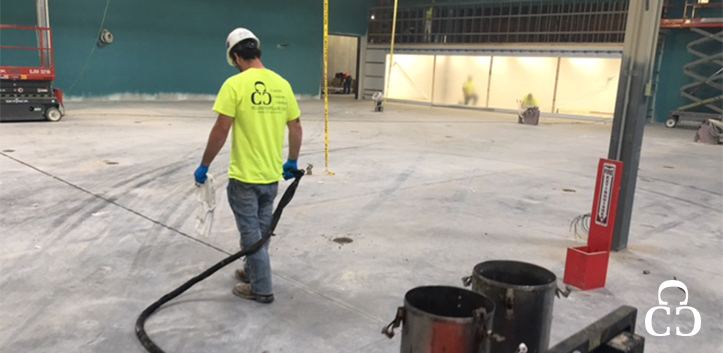 There is more to installing concrete floors than just having them installed and that being the end of the topic. There is a lot of planning that comes into play before installing concrete floors. From finding the correct color to the whole look of concrete. Your business or home could be looking for rustic barn style concrete floors or a much sleeker marble like concrete floors. The possibilities are endless. Finding the best concrete floor expert is necessary.
Do concrete floors really need a concrete sealer?
If you had a brand new wood deck built in your backyard, you wouldn't leave it out without a proper sealer. The water and temperature would damage it. A proper sealer will protect it from the elements and damage. That is exactly what a concrete sealer does for concrete floors.
Concrete sealers not only give concrete floors protection they also give them a decorative touch.
Types of concrete sealers.
Epoxy
An epoxy is a type of sealer that provides concrete surfaces with hard protection. Epoxy creations increase longevity of concrete floors because it protects the floor from abrasions. It's prefect for homes and businesses that receive heavy amounts of foot traffic. That is why so many restaurants receive epoxy sealers for their concrete floors.
Epoxy creations gives concrete floors a clear and glossy finish. Giving floors that glossy effect that is seen in restaurants and grocery stores. Or if businesses are looking to add a splash of color these sealers are available pigmented. Floors can receive the protection and color.
Epoxy sealers also hold strong against water. The epoxy finish makes the concrete nonporous. It protects it from water that can penetrate and cause it to crack. Plus, the epoxy creations give concrete floors that extra resistance to not let trapped moisture escape.
Polyaspartic
Another concrete sealer that is growing in popularity is the polyaspartic sealer. This type of sealer is the made of polyurea and it creates a fast and hard sealer. It protects concrete floors from hard abrasions that would crack unprotected concrete. Polyaspartic sealer is the number one choice for garages, auto shops and heavy duty businesses.
When compared to other concrete sealers like epoxy creations, polyaspartic sealers can be done the quickest and in any temperature. This sealer needs little to no preparation. It can be added to existing concrete floors. It can cover up any small crack. This sealer can also be installed and it will remain bonded at any temperature. The perks are never ending!
Choosing the correct of type of sealer for your concrete floors is a matter the location and the look. If you want expert advice and concrete sealer installation contact us! At, Custom Concrete Creations, we can provide with expert advice about the best epoxy creations or polyaspartic finishes.