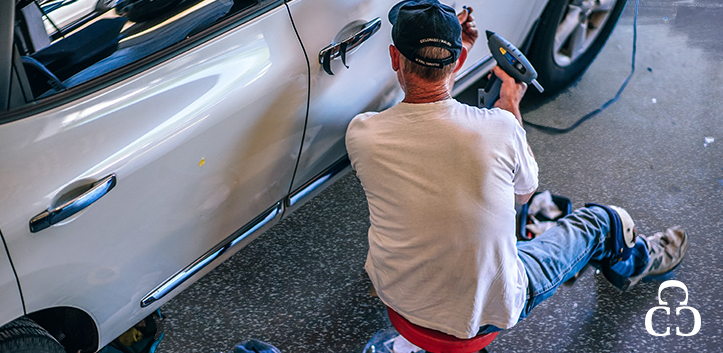 Garages are the home of our vehicles. They are also the working space of many hard working people. Car mechanics ensure that our vehicles are running in tip-top shape. They check everything from the engines to the brakes. Through all that hard labor there are many oil spills along the way. Having easy to clean garage floors is important for these mechanics. That's why garage car owners trust polyaspartic floors. It's one of the most used custom concrete coating for garages, commercial kitchens and factories.
Polyaspartic one of the custom concrete coatings that also functions as a sealer for concrete. It's made of polyurea, a material that is a commercially viable material. It was originally developed in the 1980s by Texaco Chemical Company. There are two parts polyurea; there are a resin and catalyst mixed to create the hardening of the material. This process then creates the polyaspartic that is used in custom concrete coatings.
When floors receive a polyaspartic coating, it creates a durable layer that will protect the concrete floors. Polyaspartic has a corrosion-resistant coating making it an ideal option for garages everywhere. These types of floors can withstand the high traffic, resist stains and prevent breakage. They provide the look and feel of having a high-quality garage for a fraction of the cost. These floors can be installed in any business or personal garage.
Benefits of polyaspartic floors.
If you run a tire spot or automobile repair shop, a floor renovation can bring your business to a screeching halt. Typically epoxy floor finishes take from four to five business day to get installed and finished. Polyaspartic floors are ideal for companies who need a floor renovation without losing much of their business. Polyaspartic flooring can be completed in a little as five hours! A custom concrete coatings service company will only need to make one trip.
Another selling feature of polyaspartic flooring is that these floors can be installed in any temperature. Normally it's recommended to not add a coating to your existing concrete floors during the cold winter months, however for polyaspartic floors that is not an issue. It can be installed on your floors in both low and high temperatures.
Polyaspartic flooring gives garages the protection they need from spills and leaks. This kind of flooring will not allow oil or gas spills to seep into the concrete floors. More importantly it will keep your employees safe from slips. The floors are easy to clean with a rag or cloth. Having floors that are stain restraint will also eliminate the cost of constantly having to reinstall. With a single coat of polyaspartic, your floors will be ready for years to come and withstand the wear and tear.
If are thinking about adding polyaspartic floors to your garage, we can help. We offer one of the best custom concrete coatings in the Midwest. We have over five years of experience to get the work done correct and professionally.
_________________
Custom Concrete Creations
is chosen to help facilitate projects because we are the preferred custom concrete floor company, not only in Omaha, but for the greater Midwest region. No project is too big or too small for our team of seasoned experts who use state-of-the-art equipment on each and every project. We help you achieve the look of your dreams and do not consider the job done until you are happy with the results.
So give us a call or contact us
for your custom concrete needs today!