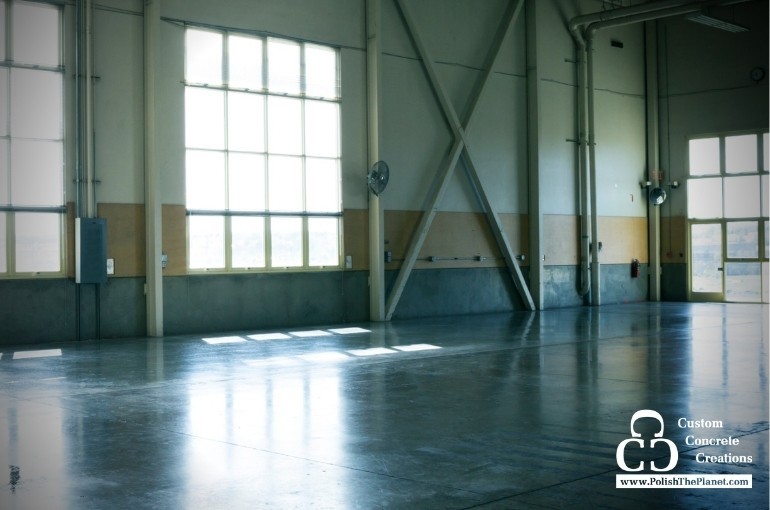 Warehouses are busy pretty much every day during working hours. The high amount of foot traffic and equipment used in warehouses calls for durable flooring that can take a beating. Without a durable flooring solution, forklifts and other machines can put much wear and tear on your warehouse's floors.
At Custom Concrete Creations, our team of polished concrete specialists knows exactly why polished concrete is the best option for your commercial space. Below, we discuss why polished concrete floors are so beneficial in any warehouse.
Durability
Polished concrete is one of the most durable flooring solutions available on the market. The durability that polished concrete floors provide is what makes it the perfect choice for any warehouse. With proper upkeep and maintenance, polished concrete flooring can withstand the foot traffic and equipment that warehouse floors are used to, as well as last for many years. Unpolished concrete can become worn out much easier than polished concrete, so it only makes sense to add a polishing seal to the concrete floors in your warehouse.
Safety
Another reason why polished concrete flooring is perfect for your warehouse is that it is a safe flooring solution. In order to provide optimal safety in your warehouse, you need a non-slick and level floor. Polished concrete provides just that. Keep your warehouse workers safe by making the switch to polished concrete floors!
Improves efficiency
Polished concrete floors benefit warehouses by helping to improve working efficiency! While many warehouses use forklifts and other equipment on a daily basis, polished concrete floors provide a smooth, flat surface for these machines to work properly and efficiently. This allows for workers to move more quickly while working equipment, as well as ensure that your equipment and workers are staying safe.
Minimal maintenance
Tile and other flooring materials that are found in warehouses often require much upkeep and maintenance to ensure the conditions and longevity of your floors. Polished concrete on the other hand requires very little maintenance in order to keep it looking and performing well. The only maintenance really required with polished concrete floors includes regular cleaning and mopping, which is pretty easy.
Also, warehouses see accidents happen more than they'd like. When things fall, you can ensure that your concrete flooring will not be affected and that cleaning up any spills or stains will come easily.
Cost
Installing polished concrete flooring in your warehouse is that it is one of the most affordable flooring solutions out there. And in the long run, polished concrete does not really require many repairs, saving you more money!

Polished concrete floors are the perfect option for any warehouse for many reasons. The benefits polished concrete brings to the table sets it apart from any other flooring option. Contact one of our polished concrete specialists today to learn more about our custom concrete creations.

We provide high quality concrete flooring solutions for a variety of commercial spaces. To learn more about our services, visit our website today!