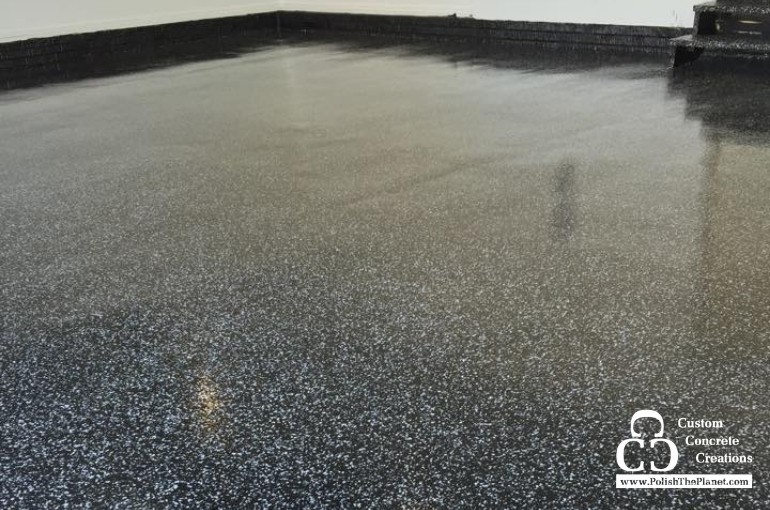 At Custom Concrete Creations, our epoxy creations team offers a variety of flooring services, specializing in polished concrete flooring for commercial spaces. We have installed polished concrete flooring, epoxy creations, stained concrete flooring, woodcrete, and more in a variety of commercial buildings. Whether it's a grocery store, auto body shop or warehouse, and more, Custom Concrete Creations offers the best quality concrete flooring throughout the Midwest.
We recentlyly finished up a project at BioLife Plasma here in Omaha, Neb. BioLife Plasma is an industry leader in the collection of high-quality plasma that is processed into life-saving therapies. The epoxy floor project turned out awesome, and we're happy to satisfy another customer.
We began by cleaning the entire existing concrete flooring throughout the building, paying close attention to detail to make sure we were getting all of the dirt, debris and other substances off of the surface. We used a power scrubber to ensure there was no acid residue left on the floors. Once the surface was all cleaned, we then repaired the areas where we found the floors were damaged. You can see this in the photos below.
After cleaning, repairing and prepping the surface of the floors, we then began making our epoxy coating mix. To mix this, we used a drill with a mixing bit, stirred it until it was completely mixed. To make sure it was totally blended, we then poured the mixture into a different bucket and repeated these steps.
Once the mixture was blended, we then began to apply our epoxy onto the surface. We started by using a brush and making sure the perimeter was all coated. We then began rolling the epoxy coating over the entire surface as you can see in the photo below!
In commercial buildings like BioLife Plasma, epoxy flooring gives businesses a strong, durable, and slip-resistant flooring solution that allows for maximum productivity and safety. Epoxy flooring is also a great option for auto body shops and garages. We were very happy with how this project turned out, and are looking forward to providing our customers with excellent service going forward!

Custom Concrete Creations offers many services to help your commercial flooring needs. From maintenance, repairs, floor removal, surface prep and polishing, our epoxy creations specialists can take care of all your concrete needs. Contact us today with any questions or to learn more about our services.