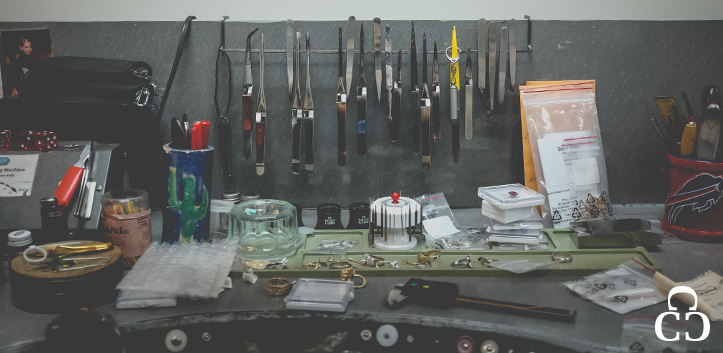 This week, we are taking a little break from polished concrete to show you just how universal and easy concrete can be to create in the comfort of your own home. Not only does concrete create our world's infrastructure, but you can also make a plethora of different things with concrete including a clock, a cutting board, and even a framed decoration. So kick back and be ready to be creatively inspired by concrete!
House Number
This is a personalized item that you will be able to put almost anywhere outside. Collect any mold or shape you want to go around the number as well as foam numbers to make the imprint. If you remove all of the concrete where the numbers are in your mold, you'll be able to lay the concrete slab outside in the grass. The grass will eventually grow inside the numbers and you will be able to watch your fun outdoor project become a part of your yard.
Desktop Clock
A concrete clock is extremely easy to create. This is a great idea for younger kids because all you need to do is choose any shape or mold and design the mold to your liking. The next step is to pour the mold with concrete and once it is dry, you will be able to attach the clock mechanism and it should be ready to go.
Framed Objects
Concrete can also be used as a decoration in your home. Find a small mold of anything you like that would fit into a frame. You can use just one mold or multiple for a more intricate design. Pour the concrete into the mold and let it dry. Then take it out and frame it or attach it to cardboard or foam.
Table Numbers
Table numbers come in all sorts of shapes and sizes and can be used for birthdays, anniversaries, or other special occasions. Using concrete for your table numbers will ensure that they are durable and long lasting. In order to make a table number, you must first create a number with paper mache and cover it in concrete. After it is dry, you can spray paint them or add any designs for your own personal flare.
Cutting Board
Another useful concrete project would be making your own cutting board. To make a cutting board, you will need a plastic mold, your concrete mix, a whisk, a stick to stir with, water and canola oil. Stir them all together and smooth the surface as best as you can. Afterwards, you can also sand down the board to eliminate any rough edges.
* * * * * * * *
Custom Concrete Creations is chosen to help facilitate projects because we are the preferred custom concrete floor company, not only in Omaha, but for the greater Midwest region. No project is too big or too small for our team of seasoned experts who use state-of-the-art equipment on each and every project. We help you achieve the look of your dreams and do not consider the job done until you are happy with the results. So give us a call or contact us for your custom concrete needs today!