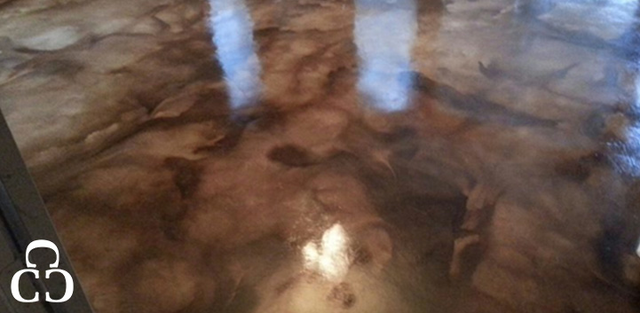 It's almost Spring and you know what that means - warmer weather! Everyone knows that men love to hang out in their garage or man cave when the weather permits. Yard games, playing catch, working on a car or cleaning out the garage would be even nicer with a newly finished polished concrete or epoxy coated floor from Custom Concrete Creations!
In the past, all garage floors used to be the same. Most were a simple gray concrete or a plain dirt floor if you couldn't afford a concrete one. They were used for storage, parking cars, and other tasks during every season. However, options have broadened and garage floors are now a staple in some homes and can even be used as showrooms, workshops, or man caves!
Modernized garage floors have become popular in all climate and corners of the United States. Although there are many choices for floor coatings, polished concrete can range from a simple design to your favorite sports logo. The possibilities are endless, especially with the help of our trustworthy suppliers.
There are many reasons why polished concrete is beneficial. It is very low maintenance, stain resistant, abrasion resistant, long lasting, allergen and mold resistant, and can be very decorative. There is also no waxing or stripping needed and at its highest polish, it can increase light reflectivity by 30%.
A garage floor coating for your man cave is not only stylish and long lasting, but also economical. Polished concrete and epoxy coatings will upgrade the look of your floor while increasing resiliency to stains and other imperfections that can be caused by cars or trucks.
Man cave owners no longer have to settle for boring, dated flooring in their favorite place to hangout. Contact C3 for more information today!
* * * * * * *
Custom Concrete Creations is chosen to help facilitate projects because we are the preferred custom concrete floor company, not only of Omaha, but of the greater Midwest region. No project is too big or too small. We have state-of-the-art equipment and a very experienced and reliable team. We help you achieve the look that you wish and don't consider the job done until you are happy with the results. So give us a call or contact us for your custom concrete needs today!