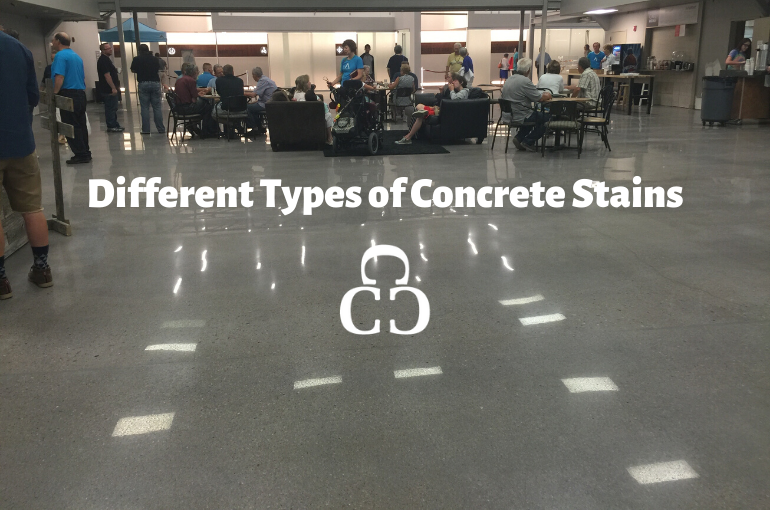 When you hear the words "stain" and "floors", you probably think about a messy floor. But when it comes to concrete floors, stains are a good thing! Concrete stains are one of the best ways to add color to concrete flooring, improving the appearance of your commercial building.
At Custom Concrete Creations, we are your concrete staining Omaha company! Our team has worked on a number of commercial projects in which we've installed polished, stained, dyed and epoxy concrete floors. We work throughout the Midwest, from South Dakota to Nebraska, Iowa and Kansas, and are here to help with your next concrete flooring project.
Below, we go over the different kinds of concrete flooring stains and explain which one is best for your space!
The Different types of concrete stains
Depending on whether the polished concrete is inside or outside, how you want the finished material to look, and the conditions in the area where the concrete will be, you need to narrow down your options. Most floors, concrete, in particular, take on a lot of heavy usage in day to day life. So, the first thing your coating needs is the ability to give major protection.
The coatings are all polymers, where one of the most common polymers is a urethane. A urethane can provide a lot of abrasion protection, resist stains and chemicals, and are even waterproof. If you are looking for a coating to put on a poolside piece of concrete, then a urethane is right for you.
Acid concrete staining uses water, hydrochloric acids and salts to get inside the concrete and cause a chemical reaction to take place. The acid lightly damages the surface of the floor, allowing the salts to get inside and bond with the material. Acrylic stains do the same thing but come in a much wider array of colors and hues.
Several other types of coatings
There are other types of coatings out there that can suit your needs for both protection and style. Epoxy concrete coatings are an example of this. Epoxy coatings offer great durability, slip resistance, and design. Epoxy coatings are a great option for auto repair companies or commercial buildings where heavy equipment is used.
Polished concrete is another way to incorporate style into concrete floors. Polished concrete have a reflective surface that looks great in many retail stores, restaurants, and similar spaces.
Lastly, you can always add color to your existing concrete floors with concrete dyes. Concrete dyes are similar to concrete stains, but are applied differently. Click here to learn the difference between concrete stains and concrete dyes!
Concrete staining is one of the best ways to add color to your concrete floors, improving the appearance of your entire commercial space! If you are considering applying concrete stains to your floors, use this guide to make sure you are choosing the right type of stain!

If you are in need of concrete staining Omaha services, we are here to help! At Custom Concrete Creations, our team has been performing concrete staining Omaha services for many years. Give us a call or visit our website to learn more about our concrete flooring services!