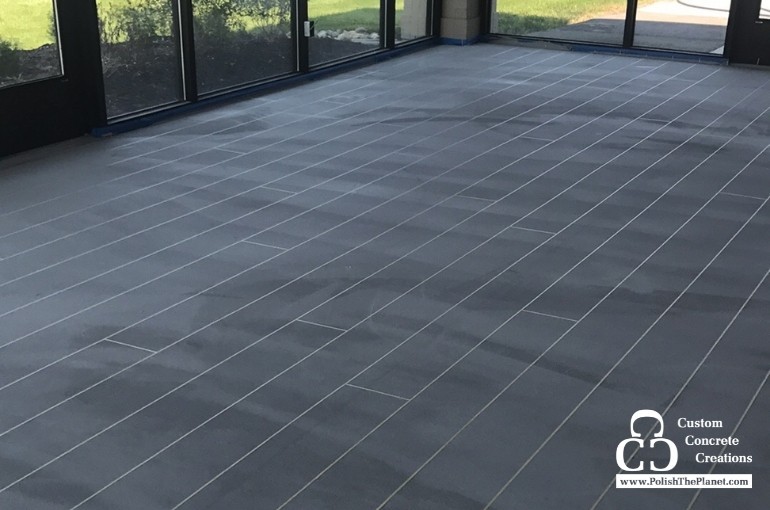 Stenciled concrete can enhance your space and create an elegant look. You can incorporate your personality, brand, company or any design you want into your flooring with stencils. Below are some fun facts about stenciled concrete creations!
Stencils can be simple or complex
You can use stencils to create any pattern on your concrete floor. Whether you want something elaborate or straightforward, you can achieve the design you want with stenciling. Common patterns include starbursts, medallions, vines, flowers, lace, rosettes and geometric shapes. Consider stenciling intricate borders or adding a focal point to your concrete flooring.
Stencils can hide imperfections
Any imperfection can be hidden with stencils. Although we don't recommend hiding minor cracks or holes with stencils, stenciling over discolorations and scratches can save you money and give you an aesthetically pleasing floor. Stencils can revive any concrete floor with colors and designs.
Stencils and colored concrete can create a unique look
If you're looking to achieve a "wow" factor, combine stencils with stained concrete. You can use multiple-color patterns to highlight certain parts of the stencil on your floor. Intricate designs can be applied by hand to have clear color separation.
Stencils can be textured
You can have a smooth or textured finish with your concrete creations. You can create grout lines on your flooring without having to maintain a floor with actual grout lines. A thin concrete overlay creates a raised, embossed pattern. Etching designs into the concrete creates a more textured finish.
Stencils can be used over large areas
Whether indoors or outdoors, stencils can be used to cover large spaces. Concrete stencils can create the look of cobblestone, brick, slate or flagstone for a better price. If you want to upgrade your large space with some new designs, stenciling is the way to go!
Stencils can be personalized
If you want to incorporate your brand or logo into your flooring, you can use stencils and staining to do so. Whatever your personal preference is, stencils can be used to achieve the look you're going for.
Stencils can be made to look like wood, tile or stone
What's also unique about stenciling is that you can create flooring that looks like wood, tile or stone but is actually concrete. It's cheaper and easier to maintain, and looks just as good… probably even better. Concrete that looks like wood is called woodcrete. Designer tiles are pricey, but you can create the look of ceramic or porcelain tiles with stenciled concrete. You can also create the looks of realistic, smooth stone.
Enlighten your space with stenciled

concrete creations

If you're looking to upgrade your flooring, give us a call! We'd love to discuss your commercial or residential project in more detail. Contact us today for more information!