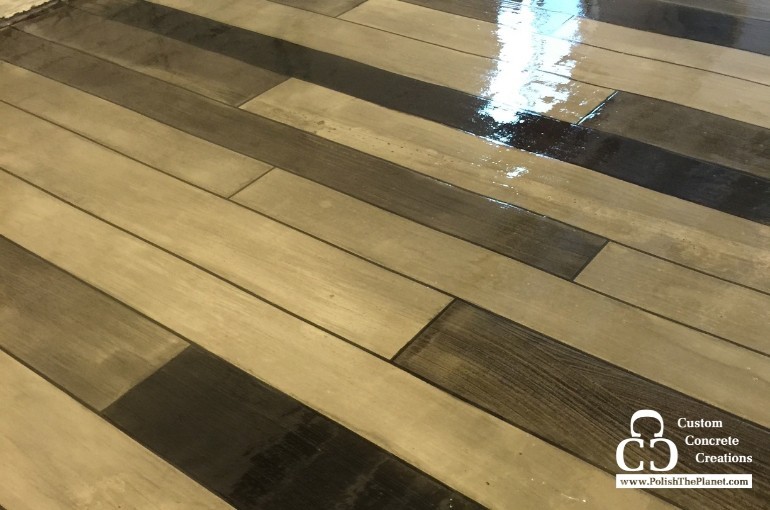 You might not know that there's a way for you to get the look of hardwood floors with all the benefits of concrete floors. Woodcrete is concrete that resembles the texture and richness of hardwood. These types of custom concrete coatings can meet both your style and needs. Learn about woodcrete and its benefits!
A bit about woodcrete
Woodcrete is concrete flooring created to look just like hardwood floors. They mimic the color and texture of wood but are more durable and less susceptible to scratches. Woodcrete floors typically last 15 to 30 years, and they're easy to maintain. Once you have a concrete floor, a concrete professional can add custom concrete coatings by first putting down a bond layer and then applying a wood texture. Once the texture is dry, the floors are sanded to remove any rough edges. An acid stain is then added on top to add color and protect the floors.
Benefits of woodcrete floors
They look good in an abundance of areas
Tons of businesses can benefit from woodcrete floors. If you want to achieve the look of wood but want a stronger floor, woodcrete is a great choice! Woodcrete floors are aesthetically pleasing and long-lasting. They are also a good option both indoors and outdoors; you can use woodcrete for your kitchen or bathroom, in your basement or in your pool area. You won't need to worry about water or moisture damage.
They're low maintenance
Maintaining actual wood is more work than maintaining a concrete floor. Woodcrete doesn't require monthly polishing or waxing, you'll want to do it just about every three to nine months depending on the level of traffic. A dry cloth or mop with warm, soapy water or a neutral pH cleaner is all you'll need to keep your woodcrete floors looking brand new.
They're environmentally friendly
Concrete is one of the most eco-friendly flooring materials out there. Plus, if you ever want to replace your flooring, the concrete can be recycled. You can have peace of mind knowing you're contributing to a better environment.
They're durable
Concrete is hard to damage. You don't need to worry about high heels, pet paws or furniture legs messing it up. Woodcrete floors are made to last. They're built to withstand any amount of pressure and, unlike real wood, you don't need to be extremely cautious of what you do. We all know scratches and dents can appear on wood floors with any wrong movement. Woodcrete can handle foot traffic associated with large businesses, as well as when you have a lot of people in your home.
Install

custom concrete coatings today

If you think woodcrete is a great option for you, feel free to reach out to us with any questions or to discuss your project. We specialize in decorative concrete in the Midwest, and our rustic, C3 Diamond woodcrete floors are sure to give you your desired look. No project is too big or too small!