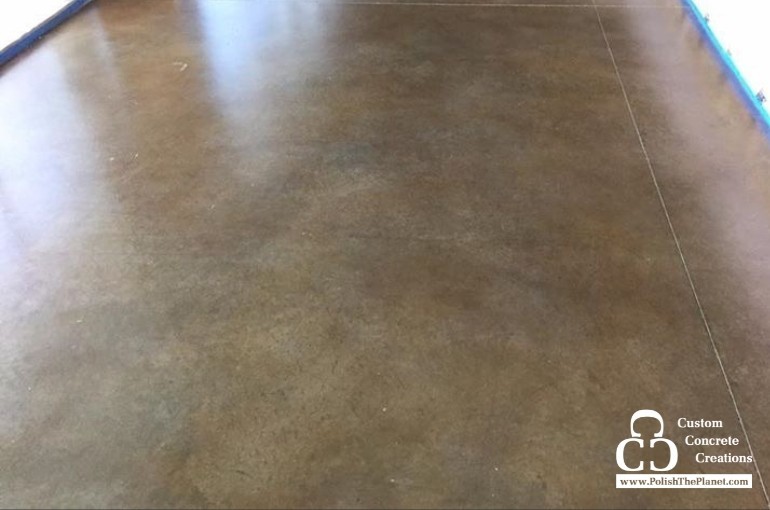 Stained concrete is a beautiful addition to any indoor or outdoor space. You'll want to keep your stained concrete floors in pristine condition, but you won't have to worry about an extensive list of maintenance. No floors go without any maintenance, but concrete floors are incredibly easy to maintain compared to other options.
Stained and sealed concrete floors have minimal places where dirt and grime can get trapped. Outdoor concrete may need to be resealed to protect it from the natural wear and tear that comes with being outside. As long as you use the right cleaning products and follow the recommended maintenance, your floors will stay looking brand new for years to come!
Cleaning indoor

stained concrete floors

It's important to know that where your concrete floors are located makes all the difference. For example, stained concrete in your living room takes less of a toll than stained concrete in a retail space. You should dry-mop these floors daily to get off any dust accumulated throughout the day. We also recommend using warm water with soap, such as Dove or Ivory dish soap, to clean these floors weekly. It's important to avoid materials like ammonia and bleach when cleaning your floors. After a long time of use, your floors may lose some shine, but rest easy knowing a concrete professional can reapply the sealer.
Cleaning stained concrete outside
You can keep your outdoor stained concrete patio intact by sweeping or leaf blowing away leaves and other debris that accumulate. Rinsing with a pressurized sprayer attached to your garden hose can get some of the more difficult dirt off. If you really have something that won't come off, we recommend using a medium-bristle brush and mild detergent. If your outdoor concrete is sealed, know that traffic, weather and sun exposure will eventually require a reapplication of the sealer.
Choose

stained concrete floors

Stained concrete is versatile, beautiful and there's an abundance of colors to choose from. They're also functional for many spaces, including outdoors, due to their durability, affordability and water resistance. Stained concrete can be textured to showcase a design or have a smooth and polished finish, either option is aesthetically pleasing and can enhance your property's value.

If you're looking for a way to upgrade your Midwest commercial or industrial space, Custom Concrete Creations can assist! We can create any design, texture or color you want to incorporate. We offer several options including antique, variegated, mottles or a monochromatic color stretch. Be unique and install the floor of your dreams! Contact us today to discuss the age of your concrete, how it can be stained and any other questions you may have. In the meantime, take a look at some of the stained concrete projects we've completed!