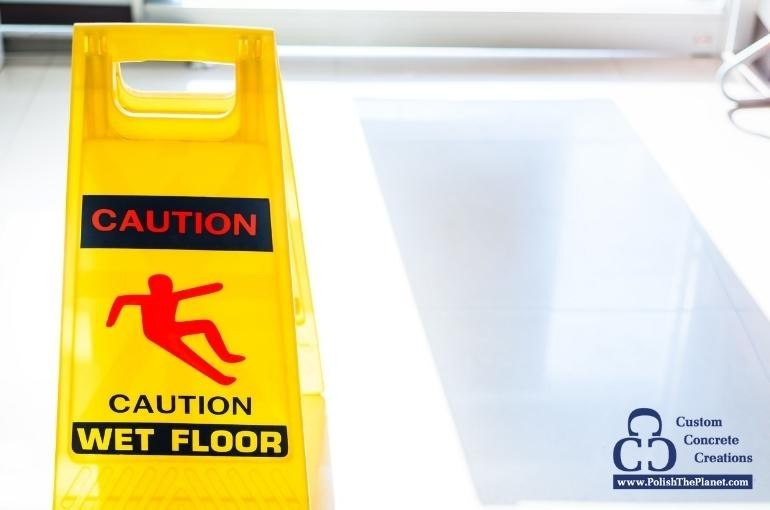 One of the greatest risks retail stores, restaurants and other similar commercial buildings face is the risk of customers or employees slipping or falling and injuring themselves in your store. Slips and falls due to unsafe flooring could result in trips to the Emergency Room and workers compensation lawsuits. Luckily, there are things that businesses can implement that will help make these situations way less likely to happen.
At Custom Concrete Creations, we specialize in polished concrete floors. We also understand how important it is to provide a safe workplace for both your employees and your customers. Below, we go over some of the common reasons slips and falls happen in commercial buildings, as well as provide tips on how you can reduce these situations from happening!
When it comes to slip and fall accidents, retail stores, grocery stores and restaurants are at higher risk than other commercial buildings. Below, we go over four of the most common causes of slips and falls in stores.
Water or food spills
Water and food spills that happen on your floors can cause slips and falls to happen. You will be surprised by how many things can create wetness on your floors.
Uneven flooring
Another common reason for slip and fall accidents to happen in a store is because of uneven flooring. If your flooring is uneven in your store, it's a smart idea to place signs that indicate where those spots are.
Floor mats
Although floor mats in entryways are useful for keeping your floors clean, when they become tangled or uneven, they offer the risk of tripping. It's important that you are making sure that your floor mats are laid out flat on the ground, and that they have enough traction underneath to not slide when customers walk on them.
Lack of warnings
Lastly, the lack of warning signs is a big cause of accidents happening in your store. If there is a spill on your floor, or if you just wet mopped an area, be sure you are using a "wet floor" sign that indicates this to your customers and employees.
Now that you know the most common causes of workplace slips and falls, let's look at some ways you can make sure these don't happen in your store!
Identify the problem
First and foremost, you must be able to identify the problem. Why are these slips and falls happening in your store? Are your cleaning strategies helping or hurting the issue? Is there anything you can do reduce this risk?
Utilize entry mats
On top of keeping your floors clean, entry mats can also help prevent slips and falls from happening, especially during the winter months. If your store is in a region that sees snow and ice during the winter, placing mats at entryways allows customers to dry their shoes off before walking into your store!
Display safety signs
One of the most beneficial ways to prevent accidents from happening in your store is by communicating potential hazards to your employees and customers by using safety signs. Whether your floors are wet from cleaning or a spill, or uneven in certain areas, posting safety signs lets your customers know to be cautious.
Keep your floors clean
Lastly, to reduce the amount of slips and falls in your store, it's important that you are keeping your polished concrete floors clean. Click here to learn some great ways to keep your floors clean!
Not all slips and falls are under your control, but there are things that you can be doing to help reduce the risk of these accidents. Use these tips to provide a safe workplace for your employees and customers!

Give our team a call today to learn more about our services.