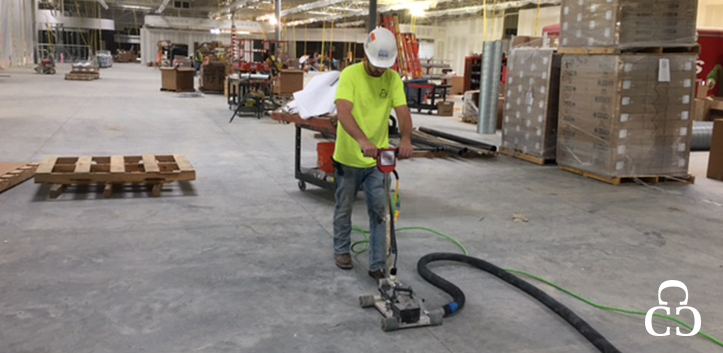 The internet is filled with tons of brilliant videos. From cute cat videos to the do-it-yourself videos, you're sure to be left inspired, but with loads of work in the end. The last thing you want is to become a "fail" video of your own for a DIY project gone wrong..
Recently, the popularity of concrete floors has increased dramatically! According to Decor Aid, concrete is looking to become one of the most popular home accents in 2019. Ranging from walls to floors, everyone wants that modern farmhouse look.
With the increase of the trend comes the enormous amount of the do-it-yourself concrete floors videos. Before even thinking about trying to do custom concrete creations yourself, consider these factors.
They are equipped.
Working with concrete is not a walk in the park. There is a lot to consider when working concrete. Floors don't magically prep themselves.
These custom concrete creations are created with the help of heavy machinery and equipment. Concrete professionals have the machinery to get the job done fast and correctly.
If you are considering DIYing your concrete floors, you will need to rent these machines. That little DIY project could end up costing you double than the cost of hiring a professional.
Their work is quality.
Quality above all else! If you are looking to achieve that high-end concrete floor look, doing it yourself isn't the way. Only concrete professionals know to create those custom concrete creations. Professionals know which concrete you will give the best results in durability, design and finish..
They will save you time.
No one likes to do research. Why have to do it when you can avoid it? Creating the perfect concrete floors for your home or business takes plenty of research and experience.
Mix the concrete, pouring and finishing it are best left to the professionals.. What you thought would be a weekend project can quickly turn into a never ending project. Concrete professionals won't waste your valuable time, or theirs.
They will save you money.
If you are looking for a DIY project, you are probably hoping to save money.
Unfortunately, by the time you take into account all the equipment and material needed to achieve the floors you've been inspired by in the first place, you highly risk going well over budget. Buying and renting all your materials and equipment add up fast. Save your money and hire a concrete expert instead. They are equipped with everything.
If you're looking to hire a concrete flooring professional, send us a message! We can't wait to see how we can create an amazing space for you!
_____________
Custom Concrete Creations is chosen to help facilitate projects because we are the preferred custom concrete floor company, not only in Omaha, but for the greater Midwest region. No project is too big or too small for our team of seasoned experts who use state-of-the-art equipment on each and every project. We help you achieve the look of your dreams and do not consider the job done until you are happy with the results. So give us a call or contact us for your custom concrete needs today!