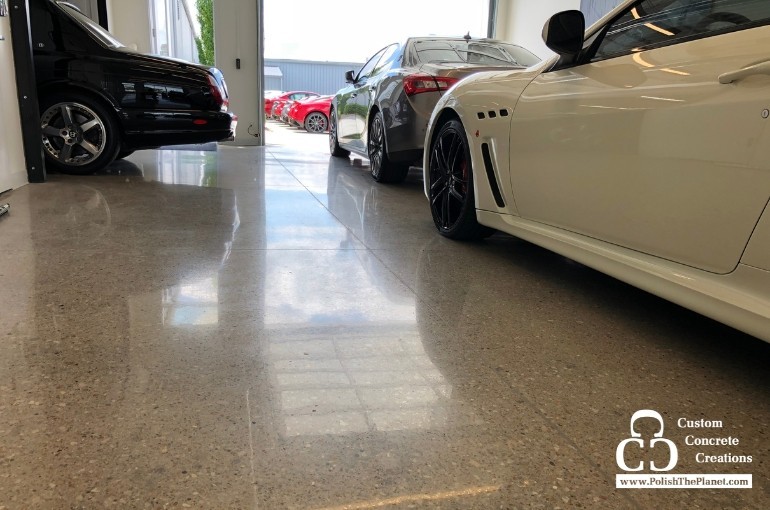 Whether you're looking to highlight high-end cars in a commercial showroom or showcase new models in your luxury dealership, polished concrete floors add the edge you need. Polished concrete adds a level of sophistication that impresses clients and potential customers. A flooring that's highly reflective is almost a must when it comes to inventory display. Below are the reasons why polished concrete floors are the perfect choice for car dealerships!
A great first impression
You want to make a great first impression to help customers feel comfortable in making their purchase. Those buying a new car need to feel like they can trust the place they're getting it from. You have to create a welcoming environment that is clean and safe to accomplish this. You need flooring that positively reflects the cars, but that's also functional. Polished concrete is both high-performing and visually appealing.
Polished concrete is fully customizable, but many dealerships will choose a glossy gray. You don't want to take too much attention away from the cars, and you need to show them off in the right way. This clean and modern flooring option allows your customers to have a positive experience with your brand. After all, customers are more likely to make a purchase after having a great showroom experience.
Can be used throughout the entire dealership
Dealerships have unique demands. Each day, your floors see customers, sales team members, staff, and anyone else involved in the operation of the dealership. Polished concrete can be used throughout the entire dealership, in the showroom, the waiting room, administrative offices, and even the mechanic's repair area. You can even incorporate logos to increase branding and entice customers even more.
You want your employees and customers to be safe, and polished concrete offers improved traction, reducing slips and falls. In the mechanic's shop, your floors will see grease, grime, oil and other car fluids, so you need a durable flooring and can withstand harsh chemicals. Install polished concrete once, and have peace of mind regarding how long they'll last and how easy they are to maintain.
Get

polished concrete floors

Give your commercial showrooms and car dealerships the edge they deserve! Cars are no small purchase, and you're sure to see customers for a variety of different reasons. If it's someone's first car, you especially want to give them a good experience, so they recommend the brand to people they know, come back to you for service, and continue buying from you down the road.

Custom Concrete Creations would love to discuss your space and how polished concrete can benefit your company. From leaving your customers with a lasting impression to driving sales, and being overall functional in all areas, polished concrete is a huge help! Contact us today to get started on your project!