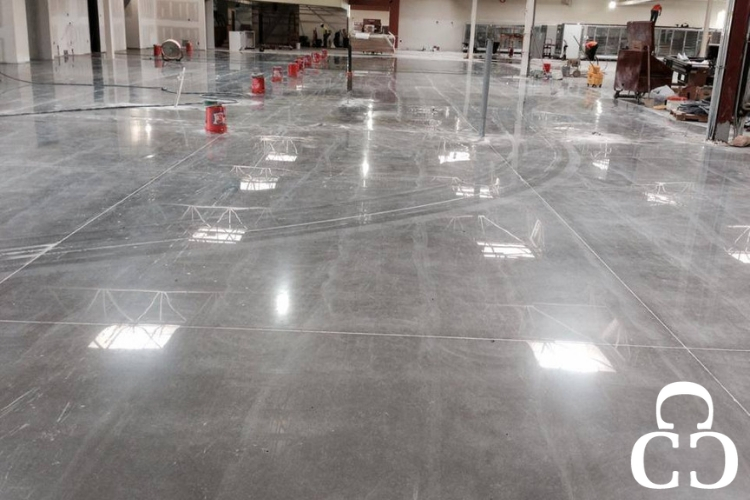 Seen in a variety of building environments, polished concrete has become an appealing floor choice that provides any commercial or residential space with long-lasting benefits. From sustainability to low-cost and efficiency, polished concrete flooring is the perfect addition to any space.
Our concrete experts break down different commercial industries and why polished concrete would be beneficial in these spaces!
Warehouses
The ideal flooring for industrial spaces would combine affordability with durability that can withstand high-volume traffic from workers, forklifts and other heavy machinery.
Because of its cost efficiency, slip resistant qualities, and easy to maintain, it's clear to see why more commercial and industrial facilities are choosing these concrete creations as an alternative to other traditional flooring solutions.
Venues
Indoor venues, arenas and stadiums are home to a wide variety of fans, vacationers, travelers and locals. These spaces rely on flooring that support a high level of stress from foot traffic and heavy equipment. Venue flooring must look clean and fresh at the start of every event while being multifunctional and easy to maintain.
Healthcare
From offices to hallways and facilities, many hospitals and healthcare providers are taking advantage of polished concrete flooring. Few industries are dependent on long-lasting, sanitary flooring. These flooring systems must be designed and installed to accommodate these demanding environments.
For spaces where sanitation is a high priority, polished concrete is the perfect flooring solution. They discourage dangerous bacteria that often accompany healthcare environments while requiring little maintenance.
The move toward greener and more energy efficient construction is also an added benefit for this flooring solution. Not only do these concrete creations reduce energy costs, but they can increase your Leadership in Energy and Environmental Design (LEED) points and provide a higher rating for your building.
Restaurants
Restaurants require a variety of flooring solutions that are both safe and durable. Kitchens in the hospitality industry need flooring that is slip resistant, stain resistant, durable and easily maintainable while dining areas should reflect a more cohesive, stylish look.
With polished concrete floors you know you are getting a flooring system that is extremely customizable, safe, durable and will last a lifetime.
Hotels
Concrete floors are also becoming a staple in the hotel and hospitality industry. From industrial to rustic, these floors are easily adaptable to fit any look. Try stamping your concrete or adding a tint of color for a look that is even more customizable to your space.
Because these lobbies, hallways, and rooms are prone to high volumes of traffic, it is important to find a solution that is easily maintainable and safe.
Custom Concrete Creations is Omaha's preferred custom concrete flooring company. No project is too big or too small for our team of seasoned experts who use state-of-the-art equipment on each and every project. We help you achieve your ideal look and don't consider the job done until you are happy with the results.
For inquiries or more information, visit our website or give us a call today!