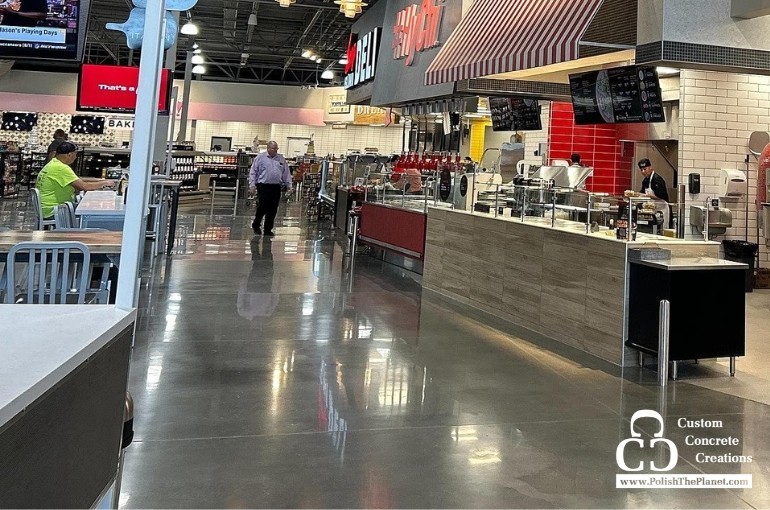 The new Gretna Hy-Vee store opened recently, and it has over 90,000 square feet of finished concrete that we did! This Hy-Vee location is much larger than the rest, and construction took over a year to complete. Read on to see why polished concrete was the right choice for this space!
Why polished concrete?
With its sleek and modern appearance, durability and easy maintenance, polished concrete offers a range of benefits that make it an excellent choice for grocery store owners. Polished concrete enhances both the appearance and functionality of grocery stores. Here are some of the benefits.
Durability and longevity
Polished concrete can withstand heavy foot traffic, shopping carts and the constant movement of goods without showing signs of wear and tear. It's highly resistant to abrasions, scratches and impact, ensuring that the flooring retains its beauty and functionality for years to come.
Low maintenance
Maintaining a clean and attractive shopping environment is crucial for grocery stores. The smooth, non-porous surface of polished concrete makes it resistant to stains, spills and the accumulation of dirt and dust. Routine maintenance typically involves regular sweeping or mopping to keep the floors looking pristine.
Enhanced safety
Polished concrete floors provide excellent traction, reducing the risk of slips and falls for both shoppers and employees. The high reflectivity of polished concrete also enhances visibility by maximizing the ambient lighting, which promotes a safer shopping experience.
Aesthetics and branding
The appearance of a grocery store plays a vital role in attracting customers. Polished concrete floors create a professional atmosphere, and the reflective properties can enhance the visibility of product displays, making them more visually appealing to shoppers.
Sustainability
As sustainability becomes increasingly important, choosing environmentally-friendly flooring options is a priority for many businesses. By utilizing the existing concrete substrate, you eliminate the need for additional materials. The polishing process itself is non-toxic and produces no VOCs, and the longevity and low-maintenance requirements help reduce the need for frequent replacement, minimizing waste and environmental impact.
A bit about Gretna's new Hy-Vee
The owners wanted to create a space that would wow customers, and thus far it has been a success. The entire building is 135,000 square feet and is Hy-Vee's largest store to date. It also has a 6,300 square foot Aisles Online grocery delivery and pickup service, as well as a 4,250 square foot Hy-Vee Fast & Fresh convenience store. The new Gretna Hy-Vee location is open seven days a week, from 6 a.m. to 11 p.m. If you live near Gretna, definitely check out this place to purchase your groceries!
Contact us for your

finished concrete needs

By choosing polished concrete for your grocery store, you can enjoy long-lasting, cost-effective and environmentally-friendly flooring that meets the demands of your business, all while creating a stylish and inviting atmosphere, just like the new Gretna Hy-Vee. Contact us today with any questions, or to discuss your upcoming project that needs finished concrete!