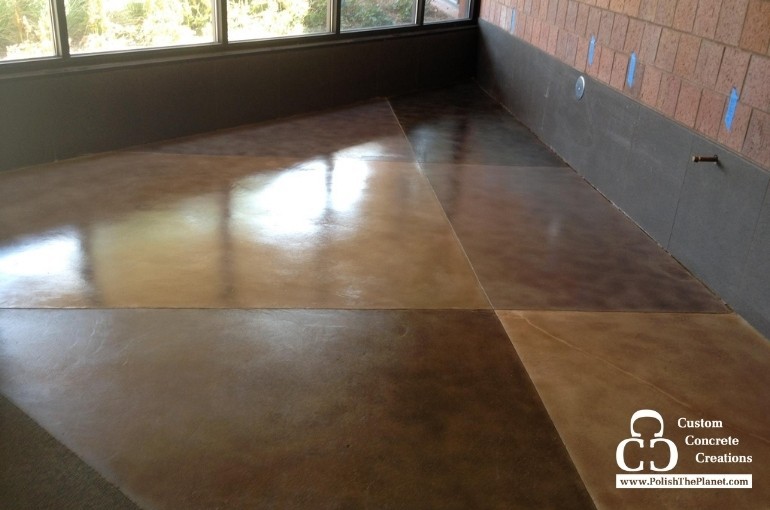 Concrete flooring is not meant to be boring, especially polished and stained concrete! Nowadays, more and more commercial buildings are making the switch to concrete flooring due to its timeless design, durability and custom options. However, if you decide to customize your concrete flooring using colors, there are some things you need to keep in mind.
At Custom Concrete Creations, we have installed hundreds of concrete floors in commercial buildings of all types. Our team is very knowledgeable about all things colored concrete. When choosing between concrete dyes, stains, and pigments, it's important that you understand the differences, advantages and disadvantages of each. Below, we dive deeper into these differences, as well as discuss the pros and cons of each!
Concrete dyes
Concrete dyes are one of the most straightforward ways to add color to your concrete floors. Dyes come in a wide variety of colors, and usually come in powder form. Dyes are applied using water or a solvent, and usually dry quickly. Here are some pros and cons of using concrete dye on your floors:
Pros
Large color selection

Easy application

Dries quickly

Can be added to existing and new concrete floors

Always stay true to color
Cons
Not UV stable, meaning they will fade when exposed to high amounts of UV light

Risk of flash fire when using solvents
Concrete stains
Concrete stains are typically used to stain, tint, shade or change the texture of existing concrete floors. There are three types of concrete stains: film-forming, acid and penetrating, acid stains being the most popular. Stained concrete is very versatile and comes in a wide variety of colors and designs. Below are some pros and cons of using stained concrete floors:
Pros
Eco-friendly and sustainable

Limitless design options

Can be added to existing and new concrete floors

A more permanent solution
Cons
Can begin to chip and peel in high foot-traffic areas

Longer application process

Does not stay true to color every time

Can be expensive
Pigments
Lastly, you can also add color to your concrete via pigments. Pigments are usually only used when adding new concrete, as pigments are essential dry particles of color. When mixed with concrete, these pigments have the ability to color your entire installation. Pigments are most commonly used for overlays such as logos and stencils. However, pigments are not an option when it comes to adding color to your existing concrete.
Here are some pros and cons of using pigments in your concrete floors:
Pros
Consistent color; great depth

Easy application

Great for overlays
Cons
Limited use; can only be used when installing new concrete

Limited decorative and timing options
Colored concrete flooring is one of the easiest ways to enhance the appearance and design of your commercial building. Use this guide when choosing a color and style for your decorative concrete.

At Custom Concrete Creations, we have installed many colored concrete floors over the years. If you are in need of updating your commercial floors, we are here to help! Give us a call or visit our website to learn more about our colored concrete services!