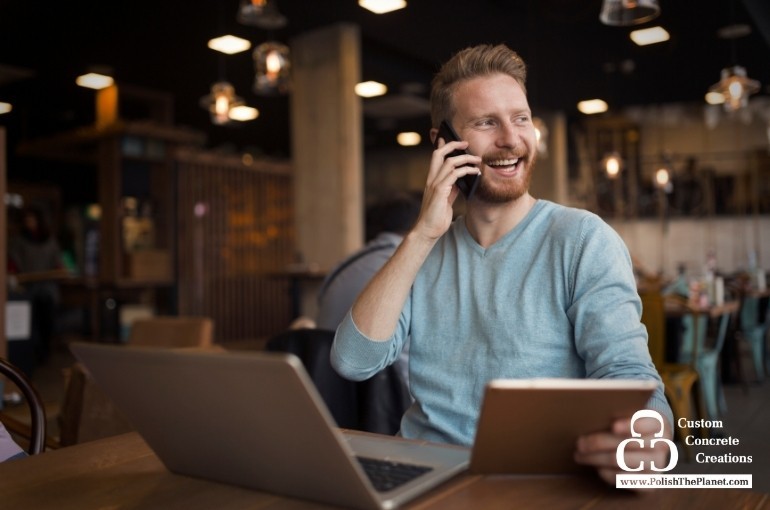 Polishing concrete is becoming a very popular flooring solution for a variety of commercial buildings. Whether it's in a warehouse, restaurant, office building, auto shop or vet clinic, concrete flooring provides businesses with a safe and durable flooring material that has easy maintenance and cleanup! However, when you decide you want to install concrete flooring in your commercial space, you want to make sure you are choosing a reliable concrete company!
At Custom Concrete Creations, our team of polished concrete specialists are experts when it comes to concrete floors. We have worked with hundreds of customers to give them the highest quality concrete flooring they can find! In this blog, we discuss some questions you should ask before hiring a concrete flooring company to ensure you are making the right decision!
How much experience do they have
One of the first things you should always ask your concrete flooring company is how much experience they have. A quality concrete flooring contractor should have performed a variety of concrete floor projects. By asking about their experience, you will be able to trust them in performing your project!
And while you ask about their experience, you should also ask your polished concrete specialists if you could see pictures or examples of past projects they have done. Being able to see finished projects in buildings similar to yours will allow you to see how their completed work turns out, and ultimately allow you to trust their work!
What concrete customization options do they offer
One of the best benefits of installing concrete flooring in your commercial space is that this material is easily customized to fit any style and design! So, when choosing the best concrete flooring company for your project, it's a good idea to ask and see what they offer to customize their floors! There are many ways to customize concrete flooring. Here are a few ways we customize floors here at Custom Concrete Creations:
Concrete staining

Concrete dyeing

A variety of colors and designs

Logo implementation

Epoxy coating
Make sure that the company you choose has the knowledge and resources available to give you the finish you want!
What is their coating process?
When installing concrete flooring, the coating process is very important. To ensure you are choosing the right company, ask them about their coating process. For epoxy floors, for example, a primer, base coat, and top coat are all needed. Make sure that your company is priming their floors, and using products that are from the same manufacturer!

What's their schedule for the project?
Asking about their schedule for your project will give you a lot of information about what activities will take place as well as when they will get completed. Usually, a quality concrete company will give you a detailed schedule on the steps they take to complete the project, as well as when they will be there working. Make sure you ask about this so you know exactly what to expect.
When choosing the best concrete flooring company to work with, be sure you ask these questions to know you are choosing a good and reliable company!

At Custom Concrete Creation, our team of polished concrete specialists is very experienced in installing and repairing commercial concrete floors. If you are in need of new flooring in your commercial space, or would just like to learn more about what we do, visit our website today!