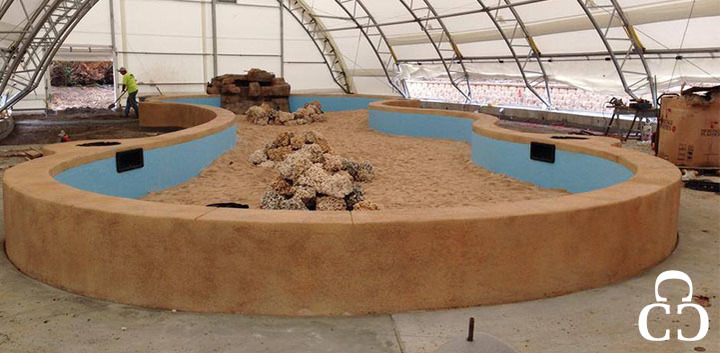 Concrete is known for being long-lasting, economical, and safe, but did you know that it is one of the most sustainable building materials available on the market? There are many attributes that make concrete sustainable, so we have made a list of reasons to help you understand why concrete might be the best option for your next flooring project.
Durability
The concrete industry focuses on durability and resiliency in pavement and construction. Concrete floors last decades with little to no maintenance. The longevity of its lifespan combined with the minimal resources it takes to take care of it contributes greatly to the sustainability of concrete. Every project is different and it is important to hire a professional that understands the individualized needs to polish and install every concrete floor.
Energy Efficiency
The thermal mass of polished concrete helps to maintain temperature swings that may be caused by the weather or other outside forces. A general industry-wide estimate says that concrete can be 30 to 50 percent more efficient than other traditional flooring methods. Using less energy to heat or cool down any space means that less carbon is being released into the atmosphere and the environment benefits.
Fuel Efficiency
Rigid pavements like concrete offer better fuel efficiency than flexible pavements such as tar or rubber. A study at MIT discovered that driving a vehicle over a flexible pavement makes for a continuous uphill drive which, in turn, uses more fuel. This study also demonstrated that stiffer pavements could reduce fuel consumption by as much as 3 percent which evens out to about 173 million barrels of oil per year! Even just a small increase in fuel consumption leaves a substantial environmental footprint, so the use of concrete can make an exponential difference.
Locally Produced
Concrete is produced locally which reduces transportation energy and emissions. The primary ingredients in concrete that make up 90% of the volume of the mixture itself are crushed stone, gravel, sand and water. The other 10% is made of cement which is also produced locally. Because concrete is made to order, materials are not wasted.
Reflection
The reflection of polished concrete floors results saves energy as well. The energy that you are saving from having to light up areas at night, the reduced heat island effect, and improved safety are all benefits of polished concrete. If you are looking for a unique and modern way to brighten up your space, consider applying high gloss epoxy flooring for an even more intense natural reflection that won't waste energy.
* * * * * * *
Custom Concrete Creations is chosen to help facilitate projects because we are the preferred custom concrete floor company, not only of Omaha, but of the greater Midwest region. No project is too big or too small. We have state-of-the-art equipment and a very experienced and reliable team. We help you achieve the look that you wish and don't consider the job done until you are happy with the results. So give us a call or contact us for your custom concrete needs today!