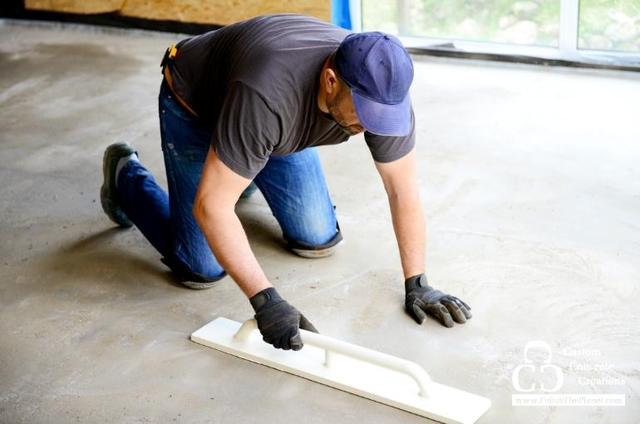 Concrete is durable, versatile and affordable. From time to time, however, you may need to make some repairs. Concrete goes through hard times, from harsh chemicals that melt the snow to intense freezing and thawing throughout the year. Sometimes it needs to be resurfaced or maybe even replaced. So, which is best?
It's important to remember that concrete can only be as good as what's underneath. If the subsurface is shaky, the concrete on top is going to reflect that. If the subsurface is strong, the concrete will last longer. If the problem is what's underneath, it may be best to resurface the concrete, rather than continually repairing it. Here's how to know if you should repair, resurface or replace your custom concrete!
When a repair is doable
Many things can be brought back to life with a little TLC. Concrete is immensely durable, but there are a lot of factors that can take a heavy toll on it, whether it be cars and other heavy equipment constantly rolling on it outside or heavy foot traffic and machinery running across it inside. Small cracks and holes can appear after a while. These little problems can be repaired pretty quickly and easily. It's best to repair concrete when the damage is minor, cracks and holes an inch wide.
When it's a good idea to resurface
Resurfacing can save concrete contractors time and money. Concrete floors get a lot of use, so it makes sense that they need a little touching up throughout their lifetime. Concrete is still the most long-lasting and cost-efficient flooring material. But, even after many, many years of use, it may need some resurfacing.
Resurfacing requires a good amount of repairing, but unlike replacing, the whole thing doesn't need to come up. Resurfacing will be worth the work and will last as long as the underlying foundation is sold. You can also take preventative measures to ensure this method will last. Overall, resurfacing enhances the concrete's appearance, extends its lifespan and requires less effort and money.
When you should replace
There are benefits to both resurfacing and repairing concrete. The first step when considering a repair is to think about the concrete's age. If the concrete is 20 years or older, replacing may be the best idea. Concrete is a material many are happy with, and you don't need to choose a new material when replacing. Either way, you have to rip it up and put something else down, and choosing concrete again will give you over 20 more years of little maintenance.
Reach out to your

custom concrete experts

We know you want to make a decision that is aesthetically pleasing as well as financially doable. Once you identify the cause of failure, you are able to choose the best option: repairing, resurfacing or replacing. We can help you decide which is best if you are unable to do so yourself. It can be tricky; reach out to your local custom concrete experts today!