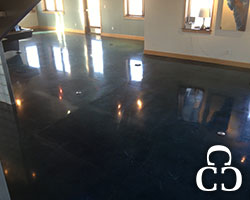 Choosing the right flooring for an industrial space is extremely important for a number of reasons. Some factors that come into play are durability, cost, environmental footprint and aesthetics. We will be comparing polished concrete and epoxy flooring, both of which are great options for industrial flooring. Both alternatives are low in cost, efficient, durable and aesthetically pleasing. So which one is the best fit your industrial flooring project?
Polished Concrete
Polished concrete is a low cost and environmentally friendly option to use for industrial flooring. Heavy-duty polishing machines are used to grind down the hard and rough surface of existing concrete to create a smooth finish that shines. The following are just a few of the many benefits of polished concrete:
The environmental footprint of your company will be reduced.
Polishing your concrete will eliminate any further waste that you may encounter.
The surface will be left clean, shiny and smooth with no peeling or flaking.
Light reflectivity will be increased due to the bright surface.
Polishing your concrete will densify and harden your concrete significantly.
By polishing your concrete, the surface level will be more flat and even throughout.
Epoxy
Epoxy is a popular, common choice used for industrial flooring all throughout the United States and other countries. Epoxy is formed from a resin and a hardener. When a resin and a hardener are combined, a chemical bond is formed and the result is a sustainable, strong and thick substance known as epoxy. This epoxy is carefully installed over a concrete surface for a smooth coating. By installing an epoxy floor, you will give way to these benefits:
An epoxy floor seals any old cracks or blemishes that may have been present before the epoxy was installed.
The epoxy will serve as a protectant from chemical spills on its surface.
Like polished concrete, epoxy will increase the light reflectivity.
Epoxy also adds to the durability of the flooring.
The flooring may look like it would be slippery, but epoxy actually prevents slipping.
Epoxy will easily bond with concrete for a clean look.
Epoxy is water resistant, so if there is a mess, the fix is an easy one.
* * * * * * *
Custom Concrete Creations is chosen to help facilitate projects because we are the preferred custom concrete floor company, not only of Omaha, but of the greater Midwest region. No project is too big or too small. We have state-of-the-art equipment and a very experienced and reliable team. We help you achieve the look that you wish and don't consider the job done until you are happy with the results. So give us a call or contact us for your custom concrete needs today!