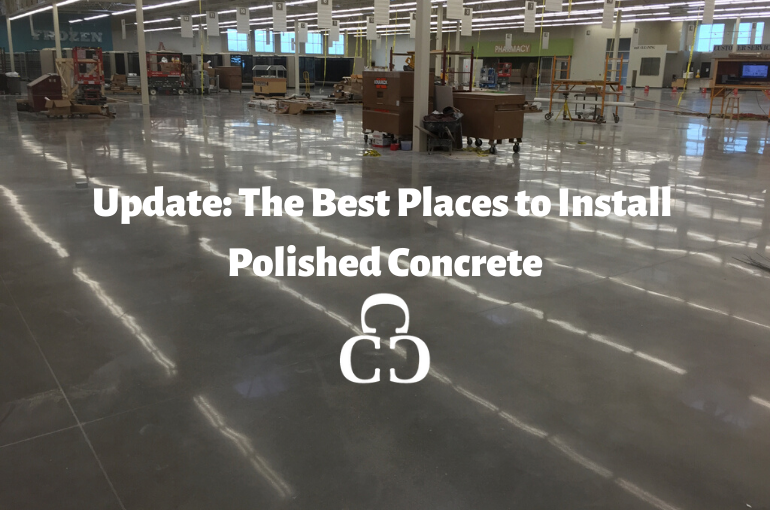 Polished concrete has become an incredibly trendy interior design concept for businesses, organizations and companies. As the installation process has gotten better and better and designers are continuing to look for unique and customizable flooring options, polished concrete continues to rise in popularity. With the amount of positive qualities it has, people are finding ways to work it into all of their locations.
Polished concrete floors pros and cons
When making the decision on installing polished concrete floors in your business, here's what you should know.
Pros:
Durable - polished concrete is long-lasting and incredibly tough. The pressure produced by cars, heavy equipment, foot traffic and spills are no match for this flooring.

Hypoallergenic - Concrete flooring doesn't trap bacteria, mold or moisture like other flooring options. The smooth surface eliminates the transfer of these pathogens in a business!

Economical - Concrete floors are perfect for those looking to be more sustainable in their everyday lives. The flooring is made primarily out of raw materials found in the Earth! It can also be made with byproducts, crushed glass, recycled plastic and other forms of waste.
Cons:
Slippery - Sometimes a highly polished concrete floor can become slippery when wet, which means that mopping will need to take place or strategically placed rugs can solve this problem.

Hardness - Even though strength and durability is a positive characteristic in most cases, sometimes it can be a negative when it comes to falls or dropping things on the floor.

Concrete creations are much less forgiving.
Here are some of the best places to install our polished

concrete creations:

Party rooms are places where there are a lot of people and often there are pictures being taken. A polished concrete floor can make a space seem larger than it actually is. When filled with people, a small space may begin to feel cramped, but with one unbroken sheet of concrete, the space may seem less crowded. In addition, if your party room has lots of windows and lights, the sun reflecting off of the concrete can lighten up the space, making it seem much brighter and bigger.

Because polished concrete is so highly customizable, you can find a design that easily fits your space and adds an element of uniqueness to your party room.
Car dealerships
A car dealership may have some special requirements for their flooring because of what they do. Car dealerships are constantly bringing new cars in and out of the showroom. This means that their flooring needs to be incredibly durable. Luckily, polished concrete can handle pressure from heavy cars and equipment. It is also resistant to wear and tear, which could be caused by driving cars over it frequently.
Secondly, the maintenance schedule for this flooring needs to be simple, as buffing the entire flooring would be difficult to do around the cars, and moving them would be incredibly time consuming. Polished concrete is very low maintenance, which means that a daily sweep and some mopping when needed is all that is required!
Lobbies
A lobby is typically the first impression a customer gets of your business, company organization. You want your lobby to be beautiful, clean and unique. Our concrete creations can provide those things and more. The high durability means that the heavy foot traffic will not be an issue with this flooring. During the winter a small mat can be placed to prevent the flooring from becoming slippery from the snow.
Offices
Workplaces can benefit the most from installing polished concrete. They always have people walking and moving for eight hours every day. It's essential to have a floor that can withstand heavy foot traffic, and durability is critical for offices. Once they're installed, they need to work for years to come.
Polished concrete is an economical and healthy choice for office floors. The installation and maintenance are still lower in price than any other flooring option. Plus, business owners can still customize the color and design of the floors. Polished concrete is a healthy choice because it doesn't keep any allergens or bacteria on its surface like carpet. It will keep the whole office healthy!
The polished concrete floors pros and cons need to fit your business' lifestyle. There's never just one place that polished concrete is acceptable, it can be installed in many industries and organizations. We can help you create a custom concrete creation of your dreams, contact us today to get started.