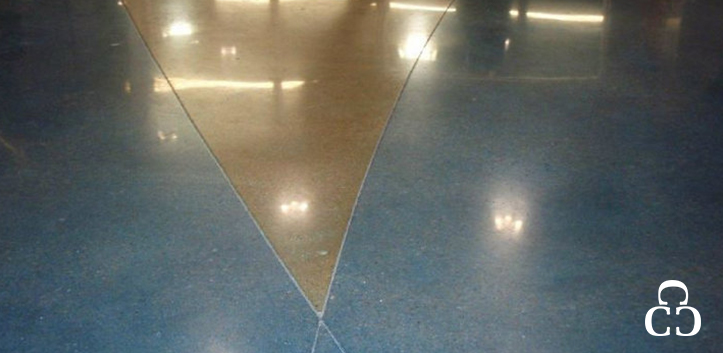 Being a business owner can be tough if you spend your money on materials that do not work for your business! One way to get a leg-up on the competition is to consider your options when it comes to flooring. Keep in mind the durability, maintenance and versatility you need to have for your business and then consider concrete flooring!
Not only is concrete durable and low maintenance, but it can be used in pretty much any environment, such as commercial or residential properties. It doesn't matter what you are looking for, concrete comes in several finishes, colors and can be altered to add design elements.
In fact, one of the best kinds of concrete flooring is scored concrete. Whether it's an office building or a restaurant patio, these concrete floors can be used in a variety of ways!
How is scored concrete achieved?
To create a design in concrete, professionals use a tool called a mongoose saw to drill down into the surface. Some of the best features of the saw like this is that they can cut perfect straight lines, cut shallow or deep and can be used to create design.
Benefits of using scored concrete
#1 Adds interest and stands out from the crowd!
If you're looking for a way to make your business stand out from other standard concrete floors, scored concrete is for you. With the use of unique patterns, textures, colors and other finishes, concrete that is scored or cut with a saw can give you whatever you're looking for.
Some of the most common patterns are:
Borders

Diamonds

Bands

Stars

Shapes

Criss-cross

Tiling
#2 It cuts cost!
In most cases, flooring that adds more design elements to a space is usually more money. But, in this case, scored concrete is a great option if you are looking for ways to add design to your business. and other kinds of concrete flooring save more money!
Think about this from a material kind of point of view, the more material you have to buy the more expensive the project will be. Therefore, concrete is a cost-effective way to cover a lot of surface area in a very little amount of time.
That's why concrete floors are used in commercial buildings like grocery stores, office buildings and car dealerships! Although it may take some extra steps to get prepped, concrete floors can be poured and ready to set in less than 24 to 48 hrs.
How hard is it to take care of?
For business owners, it's important to know what kind of maintenance the materials are required. As far as concrete flooring goes, you're in luck! Not only is it low maintenance to take care of, but it's pet and allergy friendly!
Say goodbye to tough stains and say hello to gorgeous flooring that only takes a quick wipe down every week or so. No need to worry about grout lines, fibers or any other grim hidden in your floors because with concrete floors you won't have that problem!
Once the floors are damp, all you have to do is wipe it up and let them dry! Then, your done with cleaning and can get back to business as usual.
Overall, scored concrete is just one way to add some character to the look of your office floors! For more ideas that will add some interest to your floors contact, Custom Concrete Creations!
______
Custom Concrete Creations has chosen to help facilitate projects because we are the preferred custom concrete floor company, not only in Omaha, but for the greater Midwest region. No project is too big or too small for our team of seasoned experts who use state-of-the-art equipment on each and every project. We help you achieve the look of your dreams and do not consider the job done until you are happy with the results. So give us a call or contact us for your custom concrete needs today!