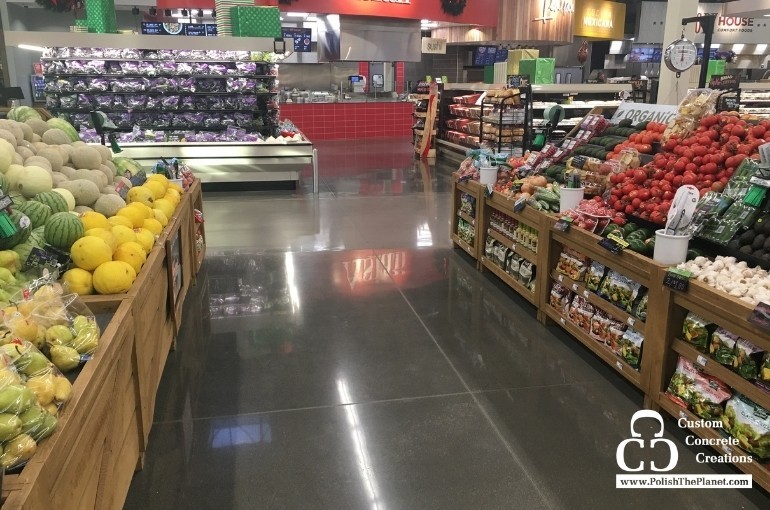 Polished concrete flooring is becoming the go-to flooring material for many commercial buildings due to its durability and beautiful design. With polished concrete flooring, businesses are able to choose a variety of colors and designs, ultimately allowing for customized flooring styles! When one thinks of concrete flooring, their first thought may be a plain, grey look. But this is not the case with polished concrete! With polished concrete, you can create beautifully designed and patterned floors that will match any style!
At Custom Concrete Creations, our team of polished concrete specialists has designed and installed many commercial floors. Below are some tips to help you design the perfect polished concrete floor!
Decide which style you are looking for
The first step in designing the perfect polished concrete floors is figuring out what style you are looking to have. Since polished concrete is smooth and reflective, there is a wide array of options for coloring, scoring, borders and other designs.
When concrete is polished, it's either stained or dyed. And because polishing is a multi-step process, you are able to choose the level of sheen, from satin to high-gloss, to meet your desired aesthetic requirements.
So, when deciding on which color, finish, and ultimate style of concrete flooring you want, you should first check out ideas and projects of existing concrete flooring! Here are some great designs to help you get started!
Break up space with a rug
After deciding on a color, finish and pattern, now it's time to start thinking about the layout of your commercial space. Adding a rug is a great way to easily impart a large amount of color into your space. When polished concrete flooring takes up a big building, it may seem like it's monotonous to look at. Adding rugs, especially in high foot-traffic areas, can boost fun colors and patterns without overwhelming the entire flooring. Implementing walk-off mats also helps protect your flooring from outside dirt, helping you maintain your floors while also adding style!
Add natural light
Lastly, when designing your polished concrete floors, don't forget about natural light! Natural light can serve two purposes in rooms that are finished with polished concrete flooring:
Bring an element of nature into industrial spaces

Effectively brighten up an area no matter how dark your concrete flooring is
Natural light and polished concrete floors go together like peanut butter and jelly. When you effectively incorporate natural light into your commercial design, it can bounce off the reflective polished concrete and make the inside of your building feel natural and vividly bright.

Deciding on the design and style of your polished concrete can be an overwhelming process. When installing polished concrete in your commercial space, keep these tips in mind to help make the most out of your investment!

At Custom Concrete Creations, our polished concrete specialists are experts when it comes to prepping, installing and finishing concrete flooring! We offer top notch custom concrete solutions! To learn more about our services or if you have any questions, contact one of our polished concrete specialists today!