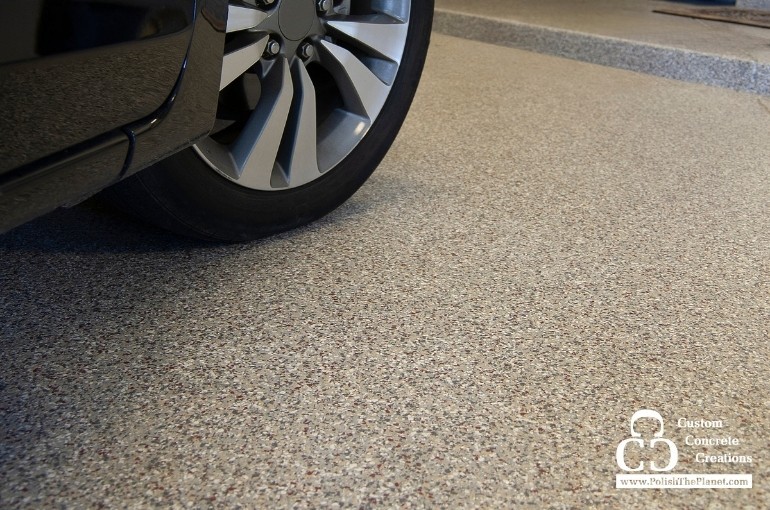 Epoxy floors are becoming a more popular flooring solution in commercial buildings! Most commonly used in auto repair shops, warehouses and other industrial spaces, epoxy floors offer tons of durability and easy clean-up after a long day of work. However, without proper maintenance and care, your epoxy creations may not last as long as you'd like them to.
At Custom Concrete Creations, we specialize in all things concrete floors. From polished concrete to epoxy creations and even woodcrete, our services are top quality! In this post, we give some tips to business owners on how to properly clean and maintain your epoxy floor coating!
Keep your floors dirt and grit free
It's so important that you are doing everything you can to keep dirt and grit off of your epoxy flooring, especially if you use heavy machinery or vehicles on and off the floors. When dirt isn't cleaned up, it has the potential to scratch your epoxy surface. Although epoxy floors are a tough and durable material, these scratches can add up and show over time. Using a shop vac with a brush attachment is an easy and safe way to remove dirt and sand off of your epoxy floors!
Avoid soap-based cleaners
When cleaning or mopping your epoxy flooring, avoid using soap-based cleaners. These can leave residues on the epoxy flooring, which can damage the surface. A scrubbing brush is probably your best bet when trying to get rid of a stain or spill. Since epoxy flooring is water-resistant, it should be pretty easy to clean up a liquid spill!
Clean up oil and other spills right away
Car chemicals that spill on an epoxy floor, such as antifreeze and oil, can be easily wiped up with a shop towel or paper towel, which you want to dispose of properly. If there is a remaining stain, mopping over the spot with warm water should get the job done! And if that doesn't work, scrubbing the stain with a sponge and warm water will help get it out!
Lastly, to keep your epoxy floors looking good, especially during the winter months, you should consider installing welcome mats at the entryways into your space. These entrymats will help catch dirt and other materials that can be detrimental to your epoxy floors! These mats also help reduce the amount of ice melt and gravel that is commonly brought into commercial buildings by customers and employees during the winter months!
Epoxy floors are a tough, durable and resilient flooring solution that offers many commercial buildings a lot of advantages. However, if not taken care of properly, you will not be able to achieve the return on investment that you were hoping for. Use these epoxy flooring maintenance tips to keep your epoxy coating looking and performing well for many years!


At Custom Concrete Creations, our team has installed many commercial concrete floors over the years. The epoxy creations we provide look and perform great! If you are interested in learning more about epoxy floors or would like to learn more about our company, please visit our website today!