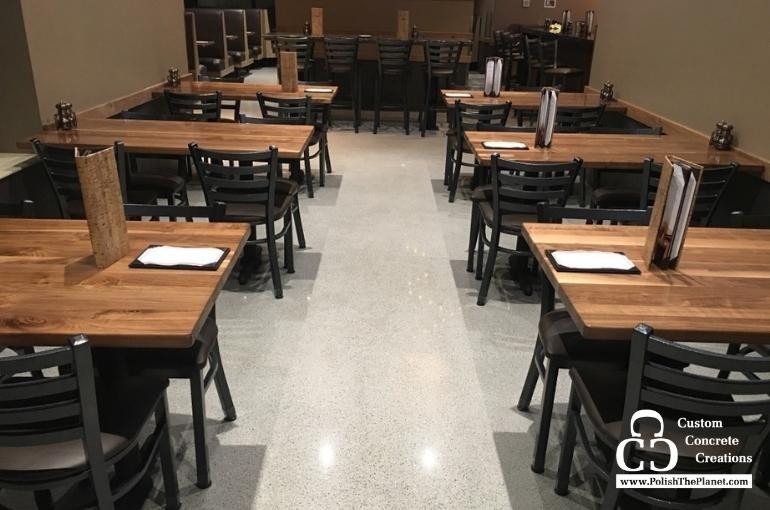 The hospitality industry consists of hotels, restaurants, movie theaters, lobbies, convention centers, hair salons, nail shops, day spas and even cruise ships. Hospitality is all about customer service and care. The main goal when designing a space in one of these locations is to make guests feel comfortable and at ease enough that they want to return. To achieve this, you'll want to choose the right colors, textures and flooring so that your guests feel welcome and can get a feel for what the rest of the space looks like.
Custom Concrete Creations knows that when it comes to flooring, first impressions matter. One of the most important areas in any type of hospitality space is the entrance. Polished concrete floors are functional, efficient and can easily be mended with the design, atmosphere and aesthetic to configure a beautiful space. Here's why polished concrete is a great choice for the hospitality industry!
Hospitality is driven by design
You want to find a happy medium between the functionality of your flooring and the aesthetic of your business. For example, if you're choosing new flooring for your five-star hotel, you'll want flooring that is durable enough to handle the foot traffic but also appeals to your customers. You want your floors to be durable, easy to maintain, safe and cost effective, while still creating an exquisite atmosphere.
You can be innovative and try new things within hospitality design. Designers who strive for new and unique looks drive hospitality design. Designers want to be on the cutting edge of design and strive to be the first to create a new atmosphere or try something that hasn't been done before.
Polished concrete is visually appealing
You need to strike a good balance between durability and visual appeal when designing your new space. You may find that you like a certain type of flooring, but can it withstand foot traffic, spills and wear and tear? Likewise, a certain type of flooring may be durable, but if it's not aesthetically pleasing it'll fail to make the space welcoming to the guests.
There are many colors, designs and finishes to pick from when you choose polished concrete floors for your business. Plus, you can always warm the space up with tasteful rugs that tie together pieces from the rest of the room. Polished concrete is durable to not only foot traffic but also long-term exposure to moisture and dirt. It's also abrasion resistant, meaning it is less prone to scratches from luggage, food carts, bell carts and strollers.
Polished concrete is seamlessly creates an interior space that is both pleasing to the eye and easy to maintain. Large areas can sometimes be difficult to keep clean because of the immense surface area, but with polished concrete, cleaning and maintenance are incredibly simple; a mop and soapy water will do the job! This option also offers better air quality as it does not absorb allergens. It is sustainable, and may get you some LEED points, helping you reach your certification.
Work with us and let's install

polished concrete floors

If you have a hospitality environment that you are looking to renovate into the perfect space, installing polished concrete is a great option. Contact us today to see how we can get started on your space!