Commercial or industrial grade epoxy flooring and epoxy creations installed by the best epoxy flooring contractors like Custom Concrete Creations could be the flooring that hospitals, commercial kitchens, grocery stores, churches and other establishments have been searching for.
While many architects, designers, contractors and even business owners understand what polished concrete is or have a basic understanding of this flooring, epoxy flooring is a lesser known flooring option, but it offers all the benefits of polished concrete.
This all depends on the needs of the business and the space, but it could be the perfect addition to your business' flooring.
What is epoxy?
Epoxy flooring is an option that is added at the end of the flooring process, and epoxy flooring is often known as an epoxy coating because of when it is installed. This coating goes over current and new concrete flooring options to protect the floors and give a different look than traditional polished concrete flooring.
An epoxy creation can mimic wood or natural stone tile flooring to give that unique look to the commercial and industrial flooring space.
Our epoxy flooring contractors explain that this flooring is a bit more stylish, but it has all of the benefits that polished concrete has which include the following:
Durable

Sustainable

Cost-effective

Handles forklifts

Resistant to chemical spills

High volume foot traffic

Less maintenance

Slip-resistant

Faster installation time
It is one of the strongest flooring options for hospitals, residential apartment complexes, warehouses, grocery stores and other spaces that would need the following benefits listed above.
If your business does decide on installing this flooring option, it is important to maintain it so it, t hese are some of the top tips from our experts.
While epoxy is a durable material, it is not indestructible, so it is important to prevent damage with simple maintenance steps! For those commercial and industrial businesses who hire outside cleaning contractors, it is important to relay this message to them as well, or even provide a small "how-to" for cleaning and maintenance of these floors.
This is because the flooring cannot have harsh cleaning chemicals used during the process otherwise it will break down the coating and leave it susceptible to wear and tear and damage over time. Avoid a costly mistake with these simple tips!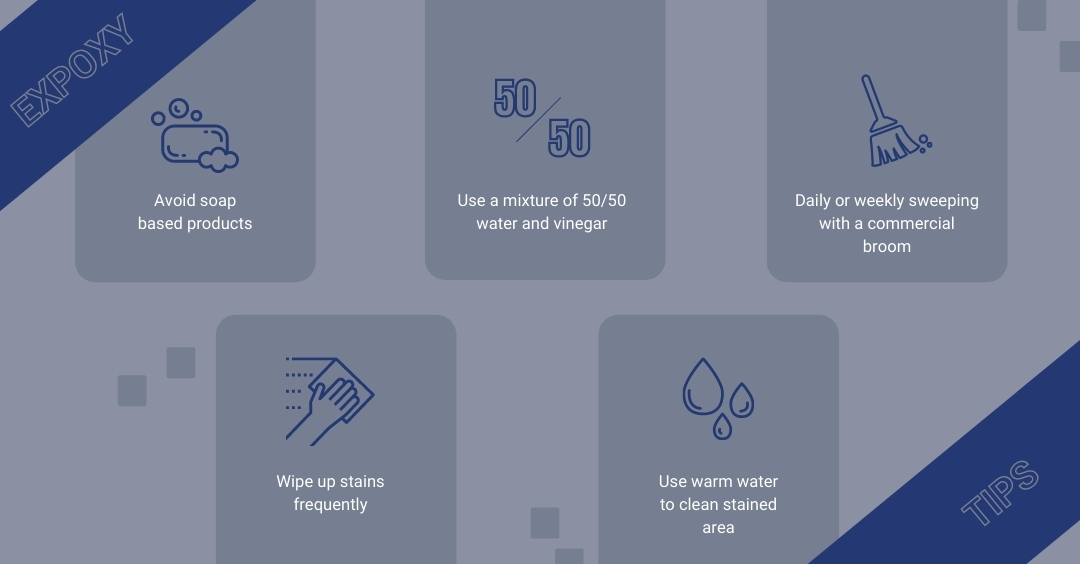 Avoid soap based products

Use a mixture of 50/50 water and vinegar

Daily or weekly sweeping with a commercial broom

Wipe up stains frequently

Use warm water to clean stained area
Hire professional

epoxy flooring contractors

If you are searching for the next best flooring option for your commercial or industrial space, contact our team of professionals! Custom Concrete Creations has years of experience in the industry and travels all over the Midwest to provide the best flooring solutions to hospitals, grocery stores, apartment complexes, the hospitality industry, schools and so many other spaces.