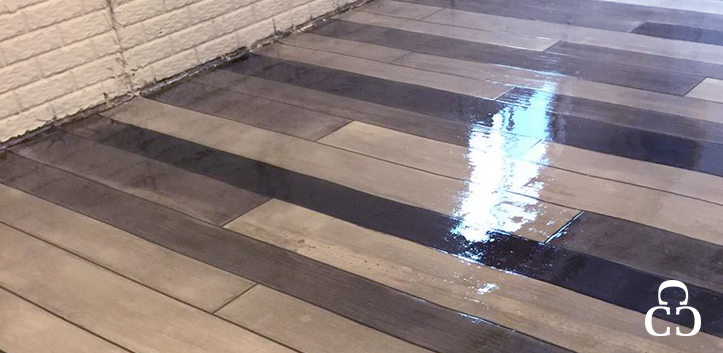 What if there was a way to get the look of hardwood floors but have all the benefits of concrete floors? Now you can! Concrete can be customized to resemble the texture and richness of real wood. It's called "woodcrete."
There's no more need to compromise on the style to fit the needs of a business or home. You can get that cabin or farmhouse trendy design with a little help from the experts in Midwest custom creations.
What is woodcrete?
Woodcrete is a term used to describe concrete floors that are designed to look like real hardwood floors. These amazing concrete floors mimic the texture and color of hardwood floors!
Concrete experts start by installing or patching up existing concrete floors. A bond layer is added to concrete then a wood texture is added. Once the texture is completely dry, the floors are sanded to remove any sharp edges. An acid stain is added to give a rich color.
The benefits of installing woodcrete
Woodcrete floors work in any area.
Two of the best things about woodcrete floors are they can give you the protection of concrete with the rustic look of wood! These floors are perfect for any home or business that wants a flooring option that's versatile.
Woodcrete floors are ideal for the entire home. From basements to bathrooms, you name it! They're even perfect for outdoor living areas like pools. Homeowners don't have to worry about woodcrete getting water or moisture damage.
Woodcrete floors are low maintenance.
Need a floor that requires little to no maintenance to keep it looking like new? Woodcrete gives homeowners this peace of mind! Keeping these floors clean is a breeze!
Unlike other flooring, woodcrete doesn't require monthly polishing or waxing. Instead, all that's needed is to clean them with a dry cloth or mop to prevent any debris from building up.
Woodcrete flooring is environmentally friendly.
Real hardwood floors won't give you the peace of mind that you're saving the planet. Woodcrete floors are made from concrete, that's considered one of the most eco-friendly materials!
There's never a worry about having a shortage of concrete because it has limestone in it and it's an abundant natural material. It can also be made from byproducts from power plants and other manufacturing facilities.
If there's any need to remove a woodcrete floors, it can be recycled! The floors can be grinded down and reused for construction and gravel roads. Woodcrete won't just look amazing but also help you save the planet one slab at a time.
Woodcrete floors are more durable.
The power of concrete never fails. Woodcrete floors are made to last. They're designed to withstand large amounts of pressure. Other flooring options like, real wood, require homeowners to be cautious of what they do. Scratches and dents can occur with any significant movement.
Woodcrete can withstand the heavy traffic of any home or commercial area.
If you're ready to make the smart switch to woodcrete floors, give us a call! We're Midwest custom creations that specialize in the decorative concrete world. Our rustic C3 WoodCrete floors will the desired look of concrete wood floors for your home or commercial area!
______________
Custom Concrete Creations
is chosen to help facilitate projects because we are the preferred custom concrete floor company, not only in Omaha, but for the greater Midwest region. No project is too big or too small for our team of seasoned experts who use state-of-the-art equipment on each and every project. We help you achieve the look of your dreams and do not consider the job done until you are happy with the results.
So give us a call or contact us
for your custom concrete needs today!