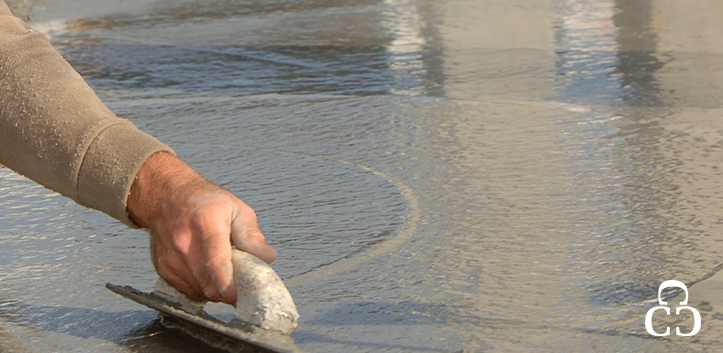 Is it time for your custom concrete flooring to be resurfaced? If you're unsure if it's time, it's important to check for peeling, cracking or other significant signs that it's time to consult with professionals to repair your concrete.
The importance of knowing when you need to resurface your custom concrete is an essential step to stay away from paying a hefty price!
Pros of resurfacing your concrete
1. It's affordable, saves time and energy!
As the most affordable way to fix damaged custom concrete, resurfacing is a great way to stay on budget! Rather than ripping out the old and replacing it with new concrete, it's easier to save money by reviving the existing concrete by filling it in or doing an overlay.
Not only does this save you from having to pay extra for materials and labor, but it also helps you save time and energy! Why? The fact is that resurfacing is basically like putting a bandaid on a wound, it smooths out the cut and levels the surface for years to come. Whereas otherwise you would of had to rip out the old custom concrete and start from scratch.
2. You can add your own personal touch!
By having your concrete resurfaced, you can add design elements that show off your own personality and taste. Whether you want it tinted, stamped or finished to look like marble, resurfacing is the way to go!
4. Increases durability for years!
Materials that are used in concrete resurfacing are very durable and stain resistant. By resurfacing you can decrease the look of tire marks, hide minor imperfections and enjoy your concrete's nice new surface for a longer time.
Con of resurfacing your concrete
1. Can't resurface all concrete
The option to resurface concrete is not always available for all kinds of concrete, such as epoxy, colored, etched, acid stained or stamped concrete because resurfacing may not stick to current surface. Also, crumbling concrete not be resurfaced because it won't be able to support the weight of the new concrete.
Are you looking for the right professionals to do the resurfacing of your concrete? Hire a concrete flooring professional, send us a message! Let us help you resurface your concrete and help you fix your custom concrete in no time at all!
_____________
Custom Concrete Creations is chosen to help facilitate projects because we are the preferred custom concrete floor company, not only in Omaha, but for the greater Midwest region. No project is too big or too small for our team of seasoned experts who use state-of-the-art equipment on each and every project. We help you achieve the look of your dreams and do not consider the job done until you are happy with the results. So give us a call or contact us for your custom concrete needs today!