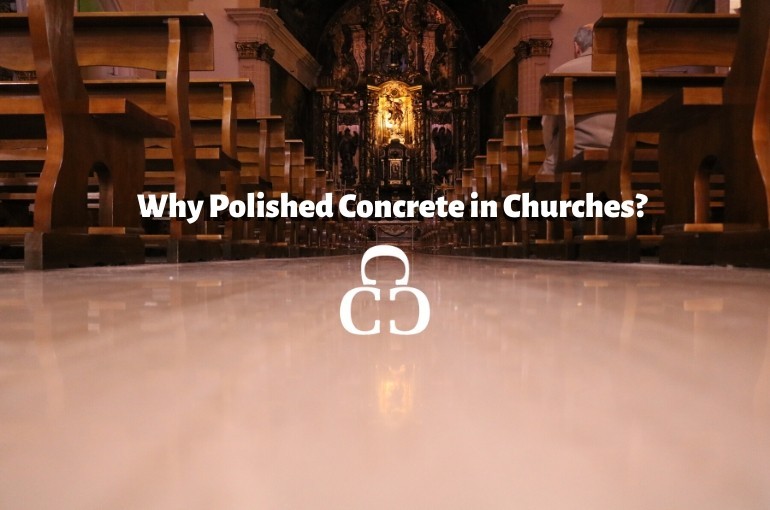 There are many different organizations in which polished concrete flooring is the perfect option. One location that polished concrete contractors may overlook is churches. Churches are a location that could be a perfect fit for beautiful concrete floors. Before we jump in, let's discuss the benefits of a polished concrete floor.
Benefits:
Why should you install a polished concrete floor? Why is it better than your other options? We have answers for you! Not only does a polished concrete floor last for centuries, but it is also eco-friendly. You do not have to worry about constant wear and tear, it isn't affected by abrasions and it very rarely chips. Since churches have high volume of foot traffic, a polished concrete floor is perfect for this environment.
Another benefit to polished concrete is how low maintenance it is. A church is quite frequently busy and full of events, which means that there is less time for cleaning and maintaining. Polished concrete flooring requires very little cleaning and time when it comes to making sure it keeps its long life span. It is recommended to use a microfiber pad daily to remove dirt and debris that traffic can bring in. Wet mopping (without harsh chemicals) is a great way to get rid of the more stubborn debris.
Myths:
One common misconception about concrete flooring is that it can be loud and produce an echo effect. This isn't quite a myth. These floorings can create a type of echo effect, but no more than other materials like tile, natural stone and some hardwood floors. The best way to combat this type of noise projection would be to muffle the sound with sound-absorbing materials like rugs, foam and curtains. Typically, churches already have these types of materials present, which would immediately eliminate this problem.
Another myth about concrete floors is that they can be boring. There is a polished concrete for every taste and every interior design plan. The polished concrete can match whatever existing colors you already have present, or it can bring an entirely new and fresh look to your space. If you are looking for something even more unique, you could even try woodcrete! As your polished concrete contractors, we can recommend the perfect flooring to fit your space.
Why Polished Concrete?
A huge draw to polished concrete is how customizable it is. A church is a place where people want to feel at home. Atmosphere is incredibly important when it comes to church, especially because churches hold more than just mass. An elegant and unique church makes for a great backdrop for things like weddings and baptisms where pictures are sure to be taken. This could also lead to more members joining your church. Many people are drawn to beautiful, modern decor.

The customizable possibilities of polished concrete are endless. If you need to match an already existing theme, your polished concrete contractors can do that for you. If you want an entirely new feel to your space, we can recommend some great ideas. Your church is a place that should represent the community and the people within it, and polished concrete is a fantastic way to show everyone what you're all about.