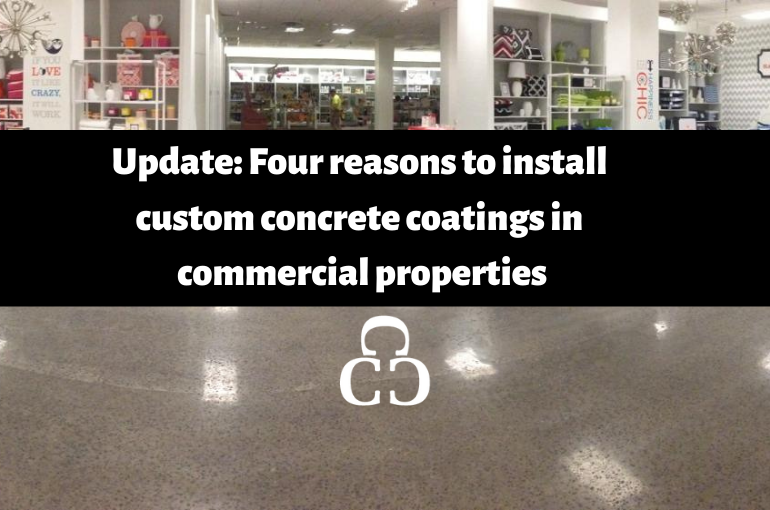 Durable, affordable and easy to maintain — it's no wonder why concrete flooring has become one of the hottest trends in the design world. Because of its sustainable properties and ability to be customized, it serves as a great alternative to other flooring options such as; carpet, wood and vinyl.
There are a number of spaces that can benefit from this flooring option, but it is especially useful for commercial properties. Keep reading to discover why custom concrete coatings are a great fit for your commercial property.
Reasons to install

polished concrete coatings in commercial properties
Lasts for centuries
Commercial floors are exposed to a lot of activity and, if made from delicate materials, the cost of maintenance will be high. Concrete coatings are durable, and business owners do not have to worry about the wear and tear on their floor. It is not affected by abrasions and it hardly chips. This is perfect for commercial floors that experience heavy machinery use and have heavy human traffic.
Eco-friendly
It is becoming increasingly popular for businesses to incorporate sustainable features in the design of their commercial space. Concrete is among one of the most eco-friendly flooring options available on the market, making it a great option for your property. This material is also recyclable, energy-efficient, durable and provides many other benefits to help you be more socially responsible.
Water resistant
A polished concrete floor does not absorb water and is affected by moisture, making it excellent for workplaces. It is also resistant to water stains because it is non-porous. Since the concrete coatings resist water, you will not have to deal with mold growth or a damaged floor.
Variation
Contrary to the common belief that concrete floors are dull and plain, there are different types of polished concrete custom coatings that can be customized to fit any style. From chic and modern to professional, there is a concrete coating suitable to meet the needs of offices, restaurants, hospitals and more. As a property owner, you have a wide variety of options to choose from along with different colors, designs and patterns to improve the appeal and ambiance of your commercial building.
Concrete offers a variety of benefits, so whether you are looking for sustainability, water resistance, durability or an option that can be fully customized to your preferences, concrete coatings offer the ultimate solution for you.
Custom Concrete Creations is Omaha's preferred custom concrete flooring company. No project is too big or too small for our team of seasoned experts who use state-of-the-art equipment on each and every project. We help you achieve your ideal look and don't consider the job done until you are happy with the results.
At Custom Concrete Creations, we want to help you make your commercial space as perfect as it can be. Not only for your guests, but for you! If you need help deciding what flooring would be best or how to design your space around a beautiful, polished concrete floor, we should be your first call! For more information or to make an inquiry, visit our website or give us a call today!