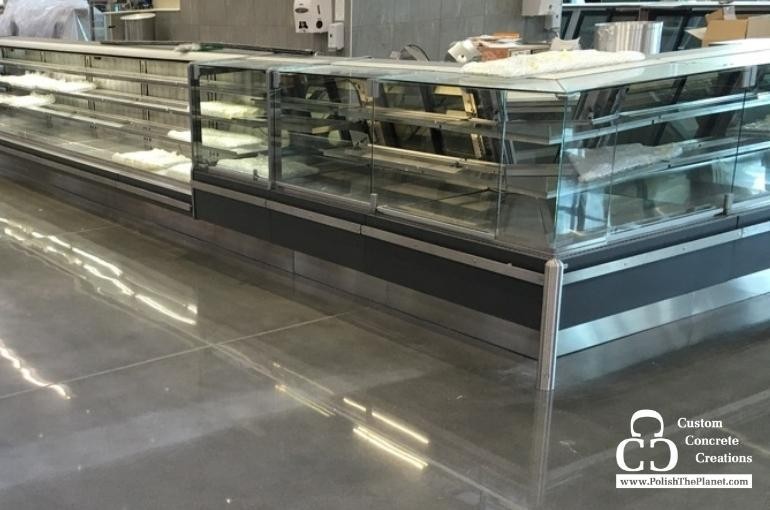 Polished concrete floors for food processing facilities are a great idea for several reasons. Food processing facilities need a floor that is, above all else, sanitary and durable. These facilities get an intense amount of foot traffic, machinery traffic, and they can face drastic temperatures from time to time.
Polished concrete floors understand the assignment.
Custom Concrete Creations specializes in polished concrete. We know that it is a very strong flooring option, resistant to cracks and all sorts of spills. What makes them so great for the food processing industry is the functionality, low maintenance, and overall cost to cover such a large space. Below we highlight some of the reasons you should install polished concrete in your facility.
Polished concrete floors

in the food processing industry

If you're looking for a flooring option that is sanitary, functional, and safe, polished concrete flooring will do the trick. The process of polishing the concrete makes it so that there are no cracks or crevices for dirt and germs to get into. These floors are also waterproof, making it hard for mold and mildew to grow, which is convenient for this industry as the floors can often get wet with spills and intense cleaning materials.

The food processing industry sees a lot of traffic from both people and machinery such as carts and forklifts. The durability of this flooring option can handle all the traffic as well as withstand spills and the weight of food processing machines. Polished concrete is also slip-resistant, meeting safety standards required by the USDA and FDA. They also require the use of sanitization with harsh cleaning products, which polished concrete can handle. Other products such as oils, acids, fats, grease, alkali, and other chemical solvents may get splashed on the floor, and it's necessary to have flooring that can take it.

There are often different zones in food processing facilities. Polished concrete is resistant to cold temperatures seen in a commercial freezer and heat emitted by industrial equipment in the facility. These floors are also very low maintenance; you won't need to put a lot of extra energy into keeping them in good condition. Along with the cleaning equipment required to keep the facility clean, polished concrete flooring only requires a mop and soap to maintain.
Consider epoxy coatings, too
Epoxy coatings are frequently used in the food processing industry because they are USDA and FDA approved, as they are slip-resistant and can handle the harsh cleaning chemicals required to keep the place sanitary. Epoxy coatings are also seamless, making it hard for any germs and bacteria to accumulate. The durability of this coating makes it another great choice for food processing facilities.
If you're looking for the perfect flooring option for your food processing facility, Custom Concrete Creations is here to discuss options with you. We are experts in polished concrete and epoxy coatings and how they can benefit your space. Feel free to reach out if you have any questions about our products and services.
Hungry for polished concrete? Contact us today!