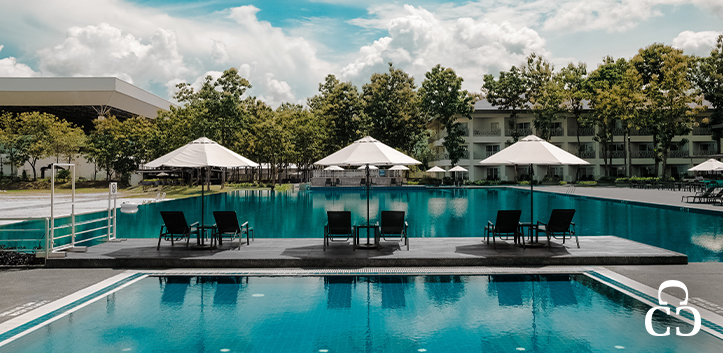 Building a pool that people in your community can enjoy, isn't an easy job if you're the owner! With the pressure on pool owners to make a one-of-a-kind experience for their customers, it's up to them to explore all of their options and pick the best finishes for their company.
From cabanas to diving boards, swimming pools come with a lot of materials to choose from. That's why picking your materials wisely is essential if want a pool that looks and functions well.
The same thing goes for the area surrounding your pool! You wouldn't use just any old wood or brick, you'd use salt finish concrete!
What is salt finish concrete?
Concrete with a salt finish is created by pressing rock salt into the surface of the concrete that can be made two different ways, traditionally or with a roller. Don't let the small holes in the concrete scare you, the integrity of the concrete isn't going anywhere!
Appearance
When it comes to appearance this type of finish it has its own personality. Not only is it distinctive and interesting to touch, but it can be customized, too! With a little bit of color this salt finished concrete can really make your business stand out from the rest!
With its desirable weathered pattern, customers will be drawn to your pool over others because of the uniqueness of the salt finished design.
Functionality
Because of the texture of salt finish concrete, it's slip resistant which makes it an ideal material for a pool deck! Not only does it allow people to get around safely, but it also helps objects like food carts and other utility vehicles to get around easier as well.
With a sturdy material like concrete, the wear and tear of lawn chairs, popsicles and sunscreen don't stand a chance! A concrete finish like salt is built to last no matter what is done to it!
Depending on the salt finish concrete, you are not out of options! In fact, there are three other finishes your business might want to consider to achieve the texture you want by your poolside.
Float and Trowel finish
A texture used on concrete that creates patterns with the help of floats or trowels. The kind of materials that will be used are dependent on the texture you want.
Broom finish
A bristly texture pushed across the surface of concrete that can be made as smooth or rough as you need it to be.
Stamped finish
A type of finish that is made to look like brick or stone pavers, but it's really concrete. It's also a great way to get texture and smoothness all at the same time.
Whether you decide to use salt finish concrete or these other alternatives, is up to the pool owner. In the end there's no denying it, salt finish concrete is a great option if you're looking to add texture to your pool deck!
________
Custom Concrete Creations has chosen to help facilitate projects because we are the preferred custom concrete floor company, not only in Omaha, but for the greater Midwest region. No project is too big or too small for our team of seasoned experts who use state-of-the-art equipment on each and every project. We help you achieve the look of your dreams and do not consider the job done until you are happy with the results. So give us a call or contact us for your custom concrete needs today!