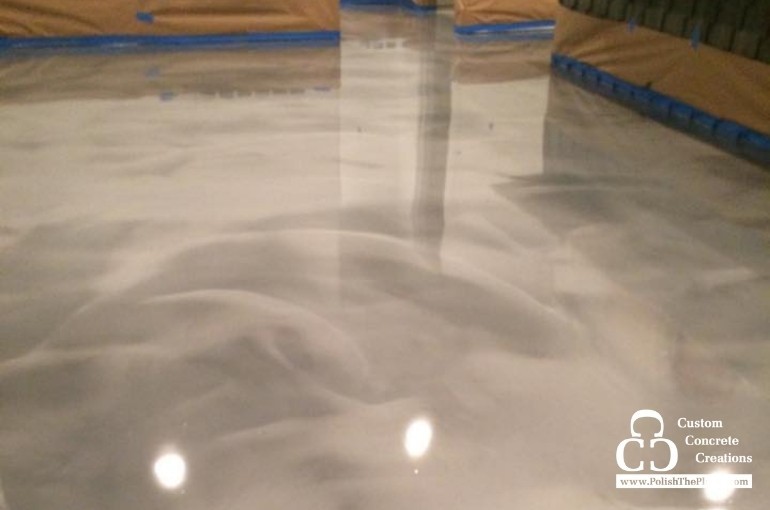 Concrete floors continue to grow in popularity amongst commercial buildings due to their incredible durability, low maintenance and customizable design. This flooring solution is commonly used in restaurants, apartment complexes, schools, churches, auto shops, warehouses, and many more commercial buildings. However, when designing your concrete floors, there are many different avenues to go down.
At Custom Concrete Creations, we specialize in decorative concrete of all types. We are here to help you transform the functionality and appearance of your commercial building. Below, we go over the most popular concrete flooring designs to help you determine which style you want!
Polished concrete
Polished concrete is an innovative flooring solution that can be added to any space. Individuals can choose from a number of finishes based on their preference, so whether you prefer a satin or more lustrous finish, your flooring can be customized to fit your needs. If you are looking for a floor that is durable, easy to care for, cost effective and aesthetically pleasing, polished concrete may be the choice for you.
Stained concrete
Do you prefer more earthy tones? Stained concrete could be a great option for you. Concrete staining can be done to replicate wood, brick or stone and comes in a variety of color options. Combine the right colors and patterns, and you can achieve a natural-looking and long lasting flooring solution perfect for any space.
Coloring
You don't have to settle for a plain floor. There are endless color options that can be added to any concrete floor. Although natural grey or earthy tone colors are among the most popular, you can choose from a limitless color palette. By simply adding color to the concrete mix or applying color to the surface with stains, epoxy or dyes, you can create a flooring solution that is unique to you and fits seamlessly in your space.
Designs
Adding design and texture to concrete flooring is becoming more popular in commercial and industrial spaces. Many businesses are choosing to add logos and graphics which can be done by using a stencil. You can also create a textured look that resembles wood or stone by using a stamping technique. If you have imperfections in your concrete flooring, choosing a design to incorporate can help hide it, which helps make your floors look new again.
Overlays
Another great way to give your floors a new look or cover up any imperfections is by adding an overlay to your concrete. Although concrete overlays have been around for quite some time, they have improved and can now be added seamlessly. With this option, you no longer have to replace your concrete, you can simply add an overlay to give it a new, updated look.
There are many ways in which concrete flooring can help you accomplish the commercial design you've always wanted. Whether you go with polished, stained, dyed, or a patterned concrete floor, performance will never be an issue. Use this guide to help you determine which decorative concrete style you want to go with for your next concrete creations project.

At Custom Concrete Creations, we specialize in all things concrete flooring. If you are in need of new concrete floors, maintenance, or anything else, do not hesitate to give us a call! We are happy to help you bring your commercial flooring dreams to a reality!