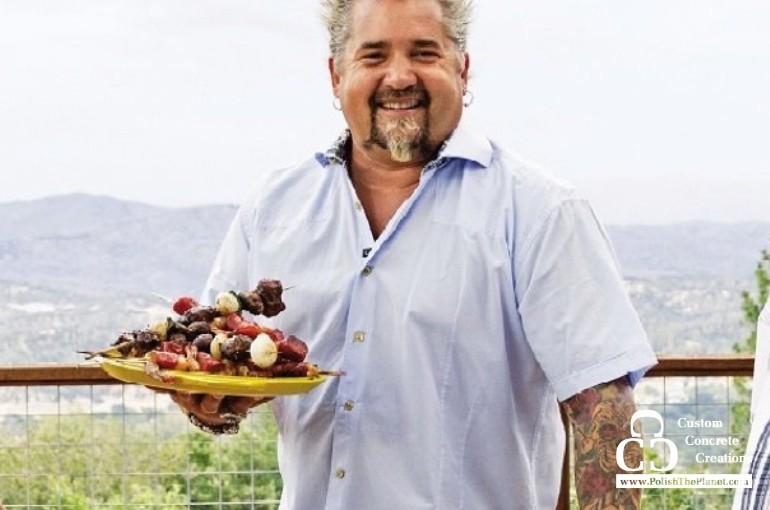 You will soon be able to eat at Guy Fieri's new restaurant inside Harrah's Casino in Council Bluffs, Iowa. While you dine on American-style burgers, nachos, sandwiches and more, you'll be sitting atop our polished concrete floors that feature UltraPro 5000 with Ameripolish surelock gray dye and a nice matte finish sealer.
Why were

polished concrete floors the right choice?

Polished concrete is a great choice for restaurants because it's durable, easy to clean and safe. Restaurants receive a ton of foot traffic, and they require flooring that can withstand that as well as movement from tables, chairs and other heavy cooking equipment. Along with its durability, polished concrete lasts a long time, so your restaurant is able to open and stay open without any major upkeep for a while.

Your employees will also appreciate flooring that's easy to maintain. They should be dusted or dry mopped daily to ensure anything that fell on the floors is swept up. You should also mop them weekly with warm, soapy water to get rid of any dust or debris that's accumulated throughout the week. Your restaurant may require mopping more often just to keep the place looking its best.

Polished concrete floors are safe for servers, bartenders and food runners who are bringing food and drinks quickly to the tables. Polished concrete can be coated or textured to remove slippage. A non-slip flooring is necessary to prevent falls and keep everyone safe.

When needing to cover a large area such as a restaurant, concrete is cost-effective. You can get the flooring you want for a good price. Concrete can also be stained or stamped to create the exact flooring of your choice.
A bit about Flavortown coming to the Omaha metro
We're excited to have been a part of this project, and welcoming Flavortown to the Omaha area. The restaurant is located just across the Missouri River, not too far from downtown Omaha. This is just one of the many recent upgrades to Harrah's. The restaurant also features an outdoor patio, perfect to enjoy a drink and good meal this summer. The menu has some of Guy Fieri's signature dishes, including his Trash Can Nachos, as well as burgers, sandwiches and desserts.
Contact us
If you're interested in learning more about this project, or working on a commercial or industrial project of your own, don't hesitate to contact us!