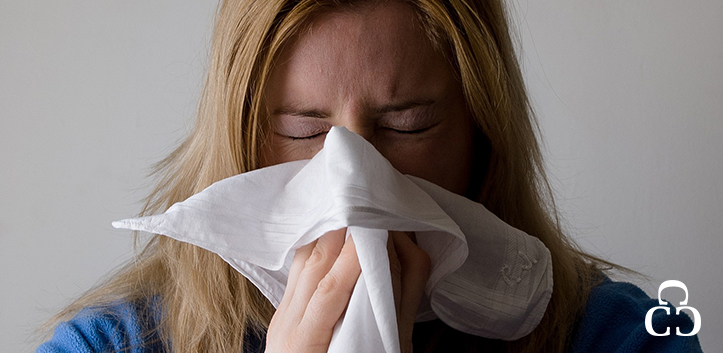 Do you find yourself sneezing and wheezing more in your home than you do outside? If you do, it can be an indicator that you need custom concrete. According to the Environmental Protection Agency (EPA) your home's air is two to five times more polluted than the air outside. Your home's flooring could be home to dust mites, allergens or even mold causing you to suffer.
What causes allergies inside you home?
If you're looking to get relief from those stubborn allergies, removing carpet is the first step and then get custom concrete floors. Carpet is known to store allergens in its fibers. The fibers of carpet flooring can be storing dust mites and other allergens that can cause you and your family to sneeze.
Dust mites are tiny creatures that live inside your mattress, furniture and even floor. They love feeding off the dead skin of humans and pets. Normally, these skin cells fly through the air of your home or stay on surfaces. Dust mites can start to live on those surfaces.
As harmless as dust mites might seem, they can cause allergies and asthma. These little bugs can cause you to sneeze, nasal congestion and even a runny nose. If you or a loved one has asthma, you could be wheezing more than usual.
Another cause that many people don't know about is mold. Carpet flooring can be a major source of mold and mildew. Mold grows rapidly in places where it is wet, warm and humid. If carpet isn't dried after a water spillage, mold can start to increase and cause severe respiratory infections and immune system disorder.
How to prevent allergies.
Instead of constantly vacuuming your home's floor to get rid of allergens, make the switch to polished concrete. It is a hypoallergenic flooring option. Hypoallergenic means that it is something that will minimize an allergic reaction.
Custom concrete is hypoallergenic because it does not allow allergens to grow on the surface of the floor. Unlike other flooring surfaces, polished concrete does not have pores. This is a good thing because it means that nothing can go into the pores of the floor and grow.
Not to mention polished concrete is easy to keep clean to control the dust mites. You can maintain polished concrete by periodically mopping it. There is no need to purchase expensive vacuums to pick up the allergens.
Mold isn't an issue for polished concrete . You can easily dry the surface of these floors following any water incident. Water won't make its way into the pores and cause mildew to form. That is why concrete is ideal for basements and bathrooms, where water is normally an issue.
If you're ready to make your home a healthier place for your family, give us a call. At Custom Concrete Creations, we are Omaha's preferred custom concrete contractor! We have been serving Midwest clients for their residential, commercial and industrial needs.
______________
Custom Concrete Creations is chosen to help facilitate projects because we are the preferred custom concrete floor company, not only in Omaha, but for the greater Midwest region. No project is too big or too small for our team of seasoned experts who use state-of-the-art equipment on each and every project. We help you achieve the look of your dreams and do not consider the job done until you are happy with the results. So give us a call or contact us for your custom concrete needs today!