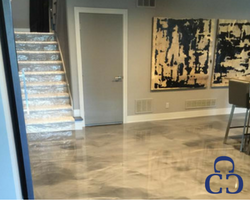 When it comes to choosing a material for your residential or commercial basement flooring needs, there are a plethora of options available to you in the marketplace to choose from. While it is true there are many options at your disposal, it is recommended that concrete be at the top of your list especially when it comes to basement floors. Its essential concrete basement floors be considered because not only is concrete durable, low maintenance, and cost effective, there are a number of design options available for you to choose from to provide you with almost any look or feel. Below, we'll explain more in depth each of these perks to you and why they make concrete the preferred choice for basement floors for so many.
Durability
Concrete floors are among the most durable types of flooring options on the market. Concrete has a lifespan that can outlast other flooring materials such as wood, carpet, or tile by double or triple their lifespan, so if you're looking for a trustworthy option for your basement floors, concrete should be of the utmost consideration.
Low Maintenance
In addition to being durable and tough, concrete basement floors require little to no maintenance during the span of its lifetime. Other flooring materials such as carpet, wood, and tile require a bit more attention than concrete, with some like carpet needing more than others. By installing concrete in your basement, you're ensuring less stress for yourself.
Cost
If you're looking for a cost-effective solution for your basement floors, utilizing the existing concrete slab could be a good option for you. Not only is it cheaper upfront than many other building materials, its durability and lasting nature makes it cost-effective in the long run too.
Number of Design Options
In addition to being cost effective and durable, utilizing the existing concrete slab in your basement also opens you up to a plethora of design options to provide you with almost any look or feel you choose. These design options include polished concrete, rustic concrete wood, stained concrete, epoxy coated concrete, or there are even metallic options all of which are available to you through Custom Concrete Creations! Below we'll briefly explain each option to give you a better idea of what you'll be looking at.
Polished Concrete Basement Floors
Polished concrete floors are one of the more traditional design options and one of Custom Concrete's specialties. Like the other options to be described, polished concrete basement floors require little maintenance or upkeep, so if you're looking for an easy going, aesthetically pleasing flooring options, polished concrete floors should be in your consideration set.
Rustic Wood Concrete
Okay, so you don't want your floors in the basement to resemble concrete, and that's fine; we get it. Rustic wood concrete allows you to have all the benefits of concrete while maintaining a look resembling wood.
Stained Concrete
Because concrete is naturally porous, it is the perfect surface for staining. Stained concrete is not only aesthetically pleasing, but by filling in concrete's pores, you're reducing the risk of moisture too!
Epoxy Coated Concrete
While many wouldn't consider an epoxy coating for the concrete basement floors, they should because it's a great option with many benefits. Like stained concrete, epoxy coatings are aesthetically pleasing as well as functional due to the fact that they too assist in filling concrete's pores and thus reducing moisture concerns.
Metallic Coated Floors
The last flooring type provided to you by Custom Concrete Creations that we'll speak on today is metallic coated floors. Metallics while not traditional, provide a clean and sophisticated look unlike no other. If you're someone who like to make a statement, choosing metallic for your basement flooring needs could be a good option for you!
To learn more about the design options available to you, click here and here.
There are so many creative and custom options for finishing concrete, but first and foremost important is the concrete itself. At Custom Concrete Creations we have state of the art equipment and a properly trained team with years of experience. Custom Concrete Creations is a premier contractor serving the Omaha area as well at the Midwest. Give us a call or send us an email for your custom concrete finishing needs today!