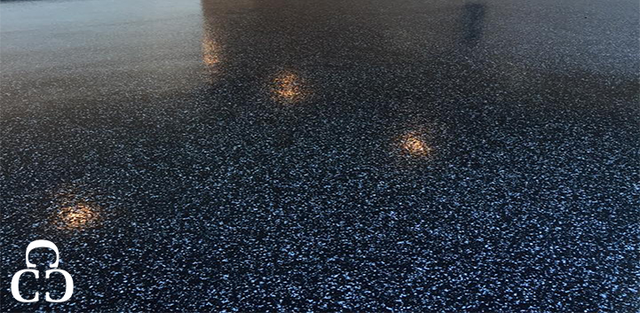 Over the years, building a home that is environmentally-friendly has become more and more important to homebuyers and homebuilders. Concrete is alluring to people because of its multiple benefits that come without having to sacrifice aesthetics or budget. Going green not only helps our planet, but it also saves money over time. Polished concrete flooring is a pristine example of beauty, sustainability, and investment that will offer a durable, low maintenance floor that will last for decades.
Concrete floors conserve energy and resources while eliminating the need for carpeting or other flooring that would eventually need replacement. Polished concrete also offers multiple environmental benefits such as energy efficiency and indoor air improvement. Design techniques such as polishing and staining are able to give you unlimited design versatility. This allows you to create floors that look like other types of flooring (but last a lot longer) such as hardwood, tile, slate, granite, or a newly customized design of your choosing. These are some of the reasons why people often choose polished concrete when wanting to go green in their home or business.
Polished concrete floors are also trusted because of their sustainability. If concrete is properly installed and sealed, a concrete floor should last a lifetime and will never need to be replaced. Carpet, tile, and hardwood floors will eventually need to be replaced which uses resources and creates more waste. The concrete itself can also be made from crushed glass, byproducts, recycled plastic, marble chips, metal shavings, and even seashells! We love making new designs with the help of our suppliers at Torginol. The concrete that we pour is also manufactured locally in the quantities needed for each product - cutting down the amount of waste produced.
Radiant heating is another unique feature of concrete. If a concrete floor is exposed to sunlight, the concrete will absorb the heat and release it as needed to keep the room warm. On the other hand, concrete floors that are not exposed to any sunlight will stay cool longer in the summer and can help lower air conditioning expenses.
* * * * * * * *
Custom Concrete Creations is chosen to help facilitate projects because we are the preferred custom concrete floor company, not only of Omaha, but of the greater Midwest region. No project is too big or too small. We have state-of-the-art equipment and a very experienced and reliable team. We help you achieve the look that you wish and don't consider the job done until you are happy with the results. So give us a call or contact us for your custom concrete needs today!