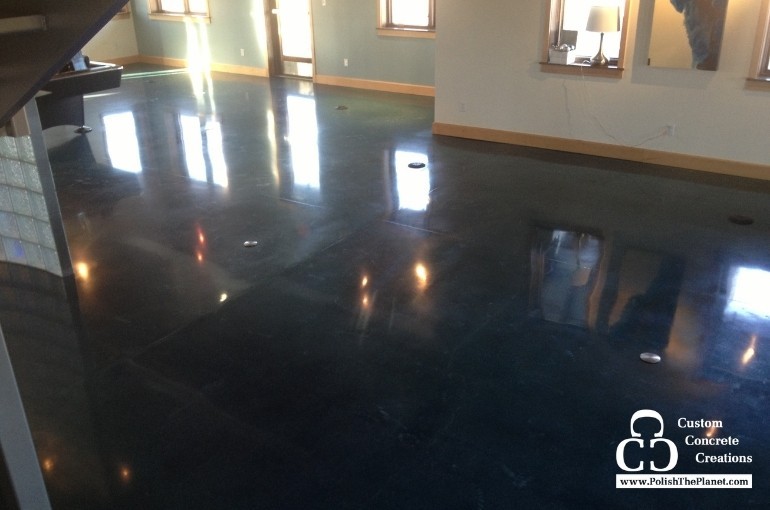 In a variety of commercial building types, concrete flooring offers many benefits. Concrete floors are durable, safe, low-maintenance and easy to clean. However, one of the greatest advantages concrete floors provide is a variety of design options to choose from! There are many coating options available to provide you with the colors and patterns you've always wanted!
At Custom Concrete Creations, we are professionals when it comes to colored concrete floors. We have worked on many commercial projects across a variety of different industries. Below, we share some different ways you can add color elements to your concrete floors!
When designing commercial floors, some spaces will be different from others. For instance, a warehouse will probably have a different flooring design than a grocery store. Same goes for an auto body shop compared to a restaurant. Some spaces require more design, while others don't necessarily have to.
Concrete dyes
One of the best ways to create colored concrete floors in a commercial setting is with dyes. Dyes are available in water and solvent based formulations, and provide a depth of color to your floor's surface when applied. The advantages of concrete dyes is that they are easy to apply, and usually produce vibrant, true colors, which can be even more intense than concrete stains! However, dyes are limited to indoor use only.
Concrete stains
Another option to adding color to your concrete floors are concrete stains! Concrete stains come in a wide variety of colors, tints and shades, and have long been the popular choice when adding color to your floors!
There are two types of concrete stains available; reactive and non-reactive. Whichever stain you choose, your color and design options will be endless! Concrete stains stay very true to their color and seldomly fade, making it a long-lasting investment. Since concrete stains are so durable, they are a great choice for restaurants, grocery stores, apartment complexes, and other areas that see high amounts of foot traffic each day!
Coatings
Lastly, there are a few concrete coatings that will also provide some design elements on top of their other functionalities. Many warehouses, auto shops and home garages are using epoxy coatings for their flooring solutions. Epoxy comes in a variety of colors, which allows for many different options!
An epoxy coating that has been trending recently is metallic! Metallic epoxy floors can replicate the looks of copper, silver, and aged bronze, and can sometimes even contain real metallic powders. You can also apply multiple coatings for a more unique look!
In today's day and age, concrete does not have to be grey and bland. There are many ways in which you can turn your commercial concrete floors into a beautiful design! When planning your next flooring project, keep this decorative concrete guide in mind!

At Custom Concrete Creations, we offer top quality colored concrete services. Whether it is stained, dyed or epoxy coating floors, our team will make sure you are satisfied with your commercial floors! To learn more about our services, visit our website today!