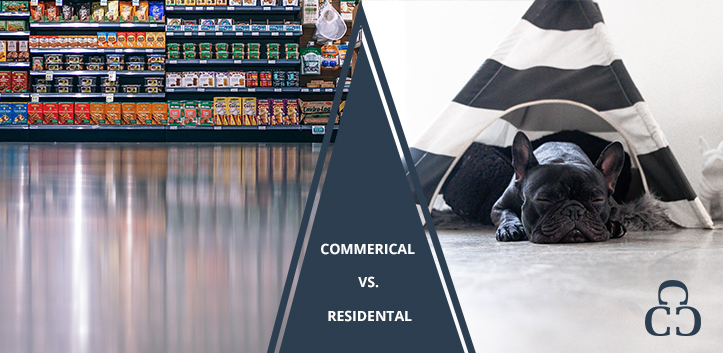 For most businesses or homeowners, concrete may seem like a one-size-fits-all flooring opportunity. But, in reality, it requires a lot more work to determine the best materials for the job!
Some of the most commonly used concrete in the business are:
Polished
Stained
Epoxy
Metallic
Woodcrete
Although all of these options could be used in either environment, finding the best product that is functionally right for the space is important.
When it comes to concrete in commercial spaces, it's important to use the most durable and structurally sound products for the job. Based on how much foot traffic and weight is traveled on the property each day is a factor that should not be overlooked.
Not only do these businesses have higher foot traffic, but more than likely, heavy equipment is also traveling on these floors. Can concrete really withstand heavy equipment? Of course it can! Concrete flooring can withstand the weight of forklifts and smaller heavy machinery for years on end.
Your best bet for picking commercial custom concrete is to use a stronger mix of water, cement and sand. The less moisture the mixture has the more strength the concrete will have over time.
As far as finishings go picking something with less detail, such as polished or epoxy concrete floors are more commercial friendly options.
Where would you use this type of concrete?
Warehouses
Storage units
Grocery stores
Retail stores
Workshop spaces
Universities
Municipal buildings
Hospitals
Hotels
Auto showrooms
Sports complexes
Why is custom concrete used in commercial settings? Because it doesn't get damage from everyday wear in tear and flooding which could affect the building's integrity because its durability is unlike any other flooring!
Residential concrete flooring is very different than commercial concrete flooring in the sense that there is less foot traffic and no heavy machinery is traveling on the floors daily.
With less pressure on the durability of residential custom concrete, homeowners can add concrete elements and flooring throughout their home or in their outdoor spaces. For example, residential properties often add design elements and other personalized materials to their concrete to give it a curb appeal or wow factor.
That's not to say that other smaller industrial companies wouldn't choose to do a stained, or metallic concrete flooring. But, it is more common to see these kinds of details used in homes or outdoor landscaping.
Where would you use this type of concrete?
Kitchens
Garages
Basements
Patios
Entryways
Hallways
Living room
What can go wrong if the wrong concrete is used?
Think of it as a wear and tear kind of situation; depending on how much action is happening in a certain area should dictate what kind of concrete is used and how the structure is setup. It's simple factors like mix is done improperly or not performing the finishing process can really ruin your custom concrete.
Overall, when it comes to custom concrete you need to use the best concrete professionals for the job!
___
Custom Concrete Creations has chosen to help facilitate projects because we are the preferred custom concrete floor company, not only in Omaha, but for the greater Midwest region. No project is too big or too small for our team of seasoned experts who use state-of-the-art equipment on each and every project. We help you achieve the look of your dreams and do not consider the job done until you are happy with the results. So give us a call or contact us for your custom concrete needs today!