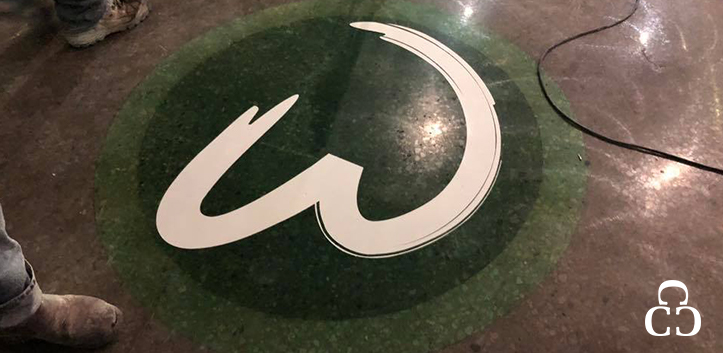 At Custom Concrete Creations, our team installs polished concrete floors for every kind of business. We even got the opportunity to install polished concrete floor restaurants at Wahlburgers locations.
Wahlburgers is a family-style restaurant that specializes in hamburgers. They offer a wide variety of items from the sloppiest of Sloppy Joe's to tater tots and frappes. All recipes are based on chef Paul's family recipes, but elevated to the Wahlberg-ian level. They have dozens of locations in the United States and Canada.
Another common place that requires concrete flooring is grocery stores. Custom Concrete has been installing polished concrete flooring at Hy-vee locations in Iowa and Nebraska to Minnesota! Wahlburgers and Hy-vee's first location has concrete flooring to this day!
What many people don't know is that Hy-Vee has plans to build, own and operate 26 locations throughout it's eight state regions. The first Hy-Vee owned Wahlberg is located at the Mall of America. It will carry all of the meals in all the original locations.
Custom Concrete Creations installed customized polished concrete floors. The restaurant got streamless polished concrete floors with the Walburger's logo. For the Mall of America project, it consisted of 3500 ft² of TruPc overlays supplied by Runyon Surface Prep. To create that polished look we used SILEX by Diamatic for that shiny finish.
Why restaurants need polished concrete floors?
Polished concrete floors are durable.
Restaurants are constantly busy. People are coming in and out of the establishment. All that foot traffic can put wear and tear on your floors. Wood and stone flooring can break or needs to be replaced after a certain amount of years. The concrete floor restaurants are polished concrete floors. They can last beyond 20 years!
Concrete floors are built to last. They can save you a lot of money and of not having to replace your floors every few years. Once these floors get polished and sealed,they can last longer than any other floors.
Polished concrete floors are easy to clean.
If you own a restaurant, you know that anything can happen. People can spill drinks, kids toss their meals and accidents can happen all the time. This is why restaurants need a floor that will withstand the impossible.
Polished concrete floors are easy to clean up. These floors have non porous which means liquid and other materials cannot get inside of the flooring. On the other hand, traditional flooring options are known to allow food or water can accumulate and soak into the flooring. All you need is a dry mop to pick up the food and dirt off the floor and you're good to go.
Let the concrete floors restaurants experts give your restaurant floors that professional touch they are missing. Contact Custom Concrete Creations to discuss the different options and looks you can get installed.
___________________
Custom Concrete Creations is chosen to help facilitate projects because we are the preferred custom concrete floor company, not only in Omaha, but for the greater Midwest region. No project is too big or too small for our team of seasoned experts who use state-of-the-art equipment on each and every project. We help you achieve the look of your dreams and do not consider the job done until you are happy with the results. So give us a call or contact us for your custom concrete needs today!