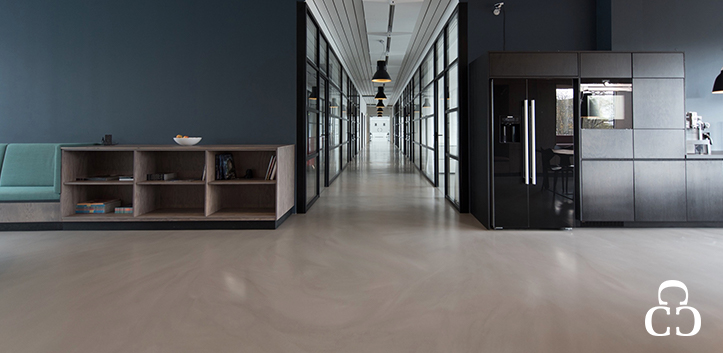 Office spaces are where many of us spend most of our time during the day. People spend eight to twelve hours of their day sitting and moving around their office space. Companies need to consider that their employees are safe. Floorings have been a hazard for employees, that's why having the safest and most durable floors is important. That's why more companies are choosing polished concrete floors for their offices.
Office spaces with polished concrete floors.
From the west to the east coast, business owners are choosing to install polished concrete floors over other types of floors. They've researched the polished concrete floors pros and cons and made the switch. The internet giant, Google, has polished concrete floors installed in their Austin, TX office. The floors allowed them to even add a personal touch of a Google sticker.
In the west coast, HelloGiggles renovated their office space and installed polish concrete floors throughout their office space. They personalized the area by adding rugs. While in Pasadena, BlueBeam Software stayed true to their sleek brand by adding polished concrete floors throughout their office.
Polished concrete floors pros and cons:
Durability
As business owner, you want to invest in a floor option that will last for years and years to come. You don't need floors that will need to be ripped out and reinstalled in three to five years. Business owners need a floor that will withstand the heavy foot traffic.
Polished concrete floors gives office floors the best durability. Since these floors are made out of one of the strongest materials in the world, you can feel confident they will last. Concrete floors can withstand heavy pressures without cracking, if your office needs, heavy equipment like printers and storage.
Easy to clean and maintain
The last thing you need as a business owner is to have to worry about keeping floors free from stains. With so much foot traffic in your office, it's hard to keep track of what people bring in and out. Carpet get stained easily without even weathering a major spill. Wood floors require a lot maintenance to keep it from scratching.
The biggest perk about polished concrete floors is how easy it's to maintain and clean. The polished finish gives concrete floors a protective layer that will keep water and stains from penetrating the concrete. It will keep concrete floors from water that makes its way indoors.
Keeps the whole office healthy
Working in a small and closed area all day with a group of people can make it easier to catch a sickness. Maintain a healthy office space is a necessity. The last thing an office needs whole team out sick.
Polished concrete floors are the healthy flooring solutions. Other flooring options like carpet tend to store bacteria, allergens and dirt within its fibers. Some people even develop allergies from carpets. Polished concrete floors don't hold any dirt or allergens.

Once you're done out weighting polished concrete floors pros and cons, choose us to get the job done! Give us a call. We can help create custom concrete creations that your whole office will enjoy for many years!
____________
Custom Concrete Creations is chosen to help facilitate projects because we are the preferred custom concrete floor company, not only in Omaha, but for the greater Midwest region. No project is too big or too small for our team of seasoned experts who use state-of-the-art equipment on each and every project. We help you achieve the look of your dreams and do not consider the job done until you are happy with the results. So give us a call or contact us for your custom concrete needs today!