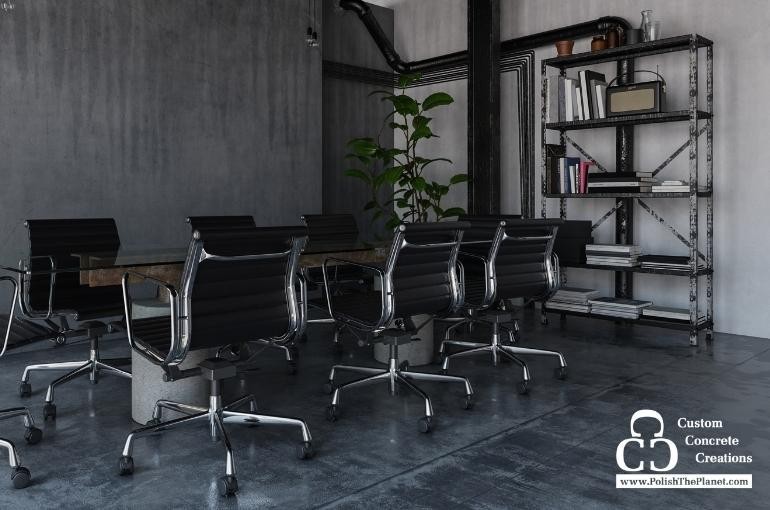 Polished concrete flooring is a top consideration when it comes to commercial office spaces. This is due to the fact that it lasts longer than other commercial flooring options, provides customization, easy maintenance, and can be utilized in any high foot traffic space.
While the decision to implement this flooring should be considered based on a number of factors such as size and costs, it is the perfect space for all offices!
Top four reasons why you need polished concrete flooring
Durability
In areas with higher foot traffic, it is important to invest in flooring options that will last for years to come. A number of other commercial flooring options need to be replaced on a more consistent basis, on the other hand, polished concrete flooring could be the solution to fewer flooring projects.
Polished concrete floors give offices the best durability. Since these floors are made out of one of the strongest materials in the world, you can feel confident they will last. Concrete floors can withstand heavy pressures without cracking if the office will see larger, heavier equipment more often.
Easy to clean and maintain
With so much foot traffic in your office, it's hard to keep track of what people bring in and out. The biggest perk about polished concrete flooring is how easy it's to maintain and clean. While this flooring option is easy to maintain and clean, it is important to understand that routine maintenance and proper cleaning products need to be used to ensure its longevity.
The different options!
When it comes to polished concrete flooring, it provides a plethora of different options for aesthetics! At Custom Concrete Creations, our team is able to provide companies with custom flooring to match their brand!
A great way to do this is with a custom logo placed into the flooring or woodcrete flooring that mimics wood, but has all the great benefits of polished concrete.
Along with this, an option that can be added at the end of the flooring process is an epoxy coating. For offices who are searching to revive their concrete flooring versus replacing it, epoxy coatings could be the best option as well.
Keeps the whole office healthy
A top-of-mind priority for all companies should be to keep their employees safe and healthy. Office spaces have a higher amount of foot traffic, and because of this, allergens, debris, and other elements can get trapped inside of the carpet fibers.
When an office installs polished concrete flooring, it is a seamless floor that makes it easier to clean and maintain than carpet. It is ideal for higher foot traffic areas while not holding any type of bacteria, allergens, debris, and coffee spills that will not seep into the floor!
Working in a small and closed area all day with a group of people can make it easier to catch sickness, which is why maintaining a healthy office space is a necessity. The last thing an office needs is a whole team out sick.