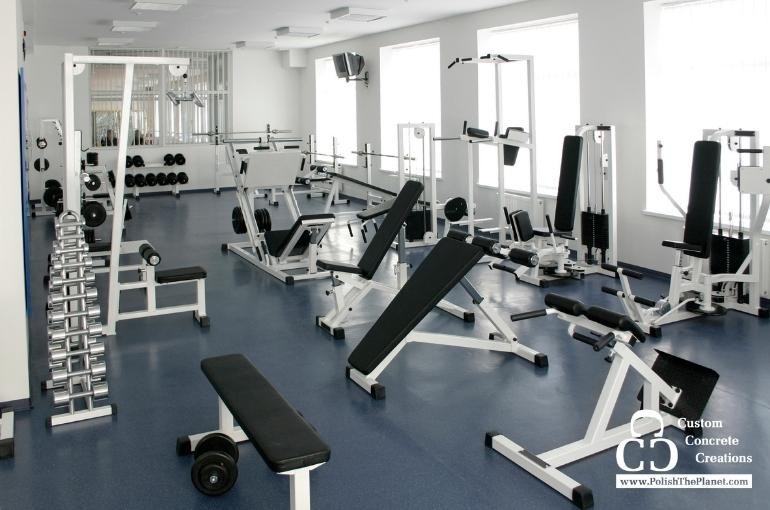 Gym floors see some of the most intense activity throughout each day, each person, and each type of workout. From heavy workout equipment to weights to foot traffic, commercial gym flooring needs to be durable. Polished concrete floors for commercial gyms are both a functional and safe idea as they're long-lasting and slip-resistant.
Custom Concrete Creations knows the ins and outs of polished concrete. We understand the benefits of concrete flooring for each specific space. Most commercial gym flooring does have mats laid over them, but you need a strong base underneath. Whether your gym is used for weight training, boxing or kickboxing, climbing, or yoga, or another type of workout, concrete floors are a great solution.
Benefits of polished concrete for

commercial gym flooring

Polished concrete is one of the most durable flooring options out there. It can withstand the weight of workout equipment such as ellipticals, bikes, stair steppers, and treadmills. Weights often get dropped at the gym after a set, and even setting down a barbell with plates on a mat takes a toll on your flooring underneath. Concrete won't get scratched or cracked when these items are dropped.

Gym flooring must be safe. Gyms have to meet safety requirements and hygienic standards. Concrete allows your gym to meet these sanitary standards and also reduces allergens. Polished concrete is a non-slip flooring that reduces slips and falls. It's also a great base to lay yoga, foam, and rubber mats on, as they won't move around while in use.

It doesn't cost much to install or maintain concrete flooring over time. All you need to clean concrete floors is soap and a mop. Polished concrete is also waterproof, making it a great option for gyms that have pools or see frequent moisture such as sweat or spilled protein shakes.

Customizability is another cool factor of concrete flooring. These floors are already bright and shiny, and you can even put your gym logo and colors into the flooring. There are a lot of aggregates to choose from. You can customize your floor to be a welcoming place people want to spend their time working out in.
Why you should invest in polished concrete
Most people who go to the gym are not concerned about the flooring. However, as a gym owner, you need to be proactive about your choice. Concrete is the cheapest option to cover a space as large as a commercial gym. This flooring option is also economical and sustainable, as it's light-reflective, so you won't need as many fluorescent lights to keep your area bright. Who doesn't want to save on bills when they can?

Polished concrete is your best bet for your gym flooring. You have a large number of design options and the durability you need, all at a good price. If you're looking to improve your gym, reach out to us and we'd be happy to get started on your project with you.