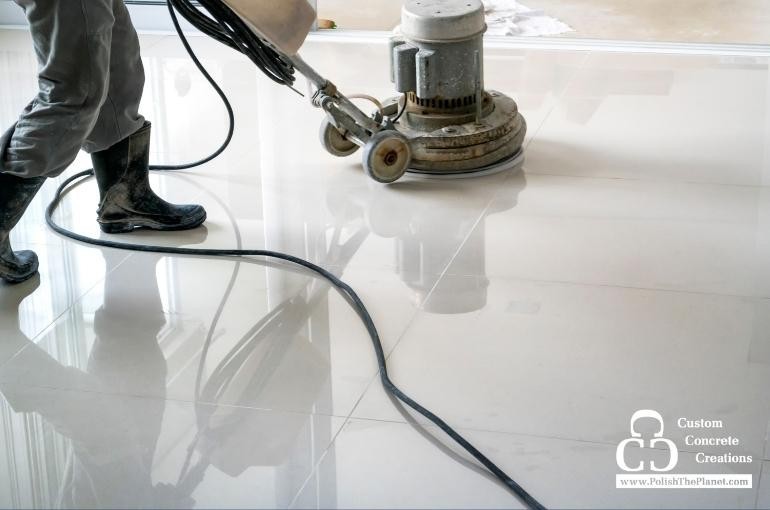 Polished concrete floors are trendy and chic, but also durable and long lasting. If you're looking for a sustainable and energy efficient flooring option, polished concrete might be the best choice for you. With this flooring, you'll be able to obtain different desired finishes for a specific space and functionality. Polished concrete has an elegant look like granite and marble, but is much cheaper, stronger, and lasts much longer.
At Custom Concrete Creations, we take a systematic approach to placing, finishing, curing, and maintaining polished concrete floors. This type of treatment gives your flooring a harder and more dense surface, all while maintaining cost. Read on to find out what exactly polished concrete is, how it's made, and how it can benefit your space.
What are polished concrete floors?
Concrete is a combination of cement, gravel, sand and water. Polishing the concrete is what gives it the popular glossy finish. The process of grinding and using bonding abrasions to cut the concrete is how we get the specific level of shine. There are different gloss class levels, including low to high reflectivity and finishing off with highly polished.
Low reflective surfaces have a low level of specular reflectivity; medium reflective surfaces have more of a satin or matte finish; high reflective surfaces are crisp with mirror-like clarity; anything reflecting off of a highly polished surface is going to appear as sharp as it would in a mirror.
When compared to other materials such as tile and hardwood, polished concrete floors are similar, if not cheaper, in price. It doesn't take a lot of energy to maintain either; saving you time and money. There are more color and design options available with this flooring option rather than choosing carpet, wood, or stone. Another perk is sustainability; concrete flooring radiates heat and energy making it very efficient.
C3 diamond floors
The C3 diamond floor is the most innovative way to polish concrete floors today. This advance in concrete treatments has led us to producing harder surfaces that last longer, and reducing costs all the while. Benefits include abrasion resistance, protection from spills, dust proof, meeting OSHA slip coefficient standards, and it's naturally sustainable.
Benefits of polished concrete in any space
We've learned that polished concrete is durable, low maintenance, cost effective, and energy efficient. There are many ways to utilize polished concrete flooring to design a space in retail, restaurants, offices, and commercial businesses. Below are benefits of this flooring option in several locations.
At Custom Concrete Creations, we're sure to provide you with the exact flooring you've been looking for. If you'd like to discuss details, contact us today!