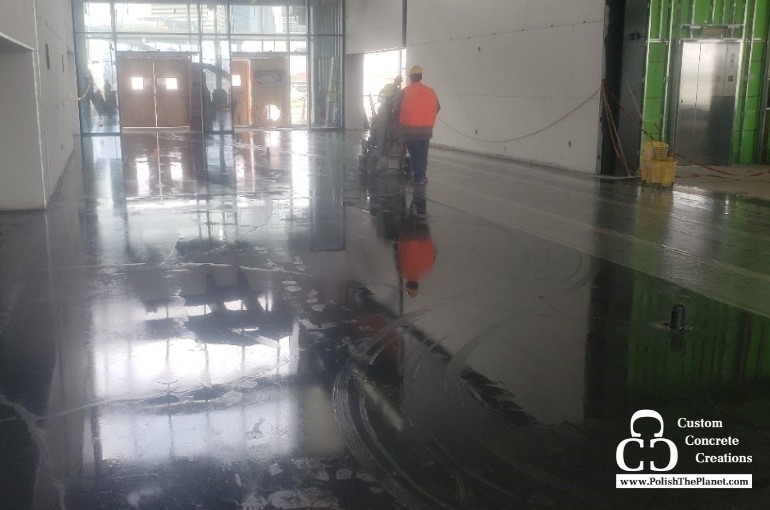 Concrete is one of the most durable materials for flooring and other construction projects. It is affordable and simple to take care of, but with any flooring you are going to eventually encounter a problem. It's best to know what to do when an issue may arise. Spring is a great time to begin concrete projects, as well as clean your already existing concrete floors. To make sure your concrete stays fresh and lasts a lifetime, here are some spring cleaning tips from your custom concrete experts!
Check the concrete for any damage
Winter is hard on concrete, so spring is a great time to check for any cracks, holes, gaps or other damage that could have been caused by the cold season. Check your concrete floors, slabs, foundations and walls for any damage. Small cracks and holes can likely be repaired yourself, but you can always ask a professional for advice. The sooner you locate the damage and fix it the better.
Clean the concrete
You can clean your concrete floors with warm, soapy water or a neutral pH cleaner and a mop or brush. You can use a power washer for outdoor concrete that has accumulated dirt or other grime and if it was exposed to ice melt or other chemicals. You may need to use a degreaser if your concrete was exposed to any car fluids. Know what type of stain or grime you're dealing with, and that way you use the right product to clean it. Staying on top of maintaining your concrete floors will ensure they last a long time.
Seal the concrete
Sealing your concrete protects it from dust, germs, scratches and any harsh chemicals. Custom Concrete Creations has tons of concrete floor sealing options that can protect and enhance the look of your space. You can choose from polished concrete, stained concrete or an epoxy coating. You can achieve almost any color and design with your concrete floors. We can create a decorative look, apply a wood-like style called woodcrete,and even incorporate your logo. We recommend resealing your concrete about every two years.
Reach out to your

custom concrete professionals

You should schedule regular concrete cleaning and sealing services with a professional annually. A professional can tell if it needs to be resealed and notify you of any issues before they become bigger problems. As durable as concrete is, it does become susceptible to damage from time to time. Contact us to discuss cleaning or prepping your concrete or to talk about any questions, concerns or projects you may have in mind!